This is a gluten-free tart recipe with vegan mushroom and veggies filling. Learn how to make a delicious, crispy, gluten-free tart and pizza crust!
As you probably know already, I recently discovered I have gluten sensitivity and completely removed gluten products from my diet. Unfortunately, I didn't have time to finish my Gluten-Free Diet 101 article, as I was really busy with school stuff...bleah…but hopefully I will finish it this weekend. I'm sure the article will help us both, as I am new to this and I can't say I know everything there is to know about celiac disease and the gluten-free diet. So, we'll learn together! 🙂
Since I gave up gluten, I discovered that my food options when eating out have narrowed even more! At home, I don't miss gluten products at all! I eat everything I used to eat, only now they're made gluten-free, like gluten-free bread, pizzas, tarts, even pastry! When eating out, things got even more complicated! It seems that my only food choice now is eating salads! Anyway, it will be a bit hard at first, but I'm sure I'll figure out a solution for this too.
Today, I made this delicious gluten-free tart with mushrooms and veggies! The recipe is quite simple, you can make any kind of filling you want, the crust is the important element!
Remember my Vegetarian Root Vegetables Rustic Tart? Now you can make it gluten-free by using the crust recipe given here. Don't forget about the GF breadcrumbs trick! It's amazing!
If you're gluten intolerant, please share your tips in the comments below. I'd love to hear your stories and maybe some tips on how you deal with the problem of eating out! Thanks! 🙂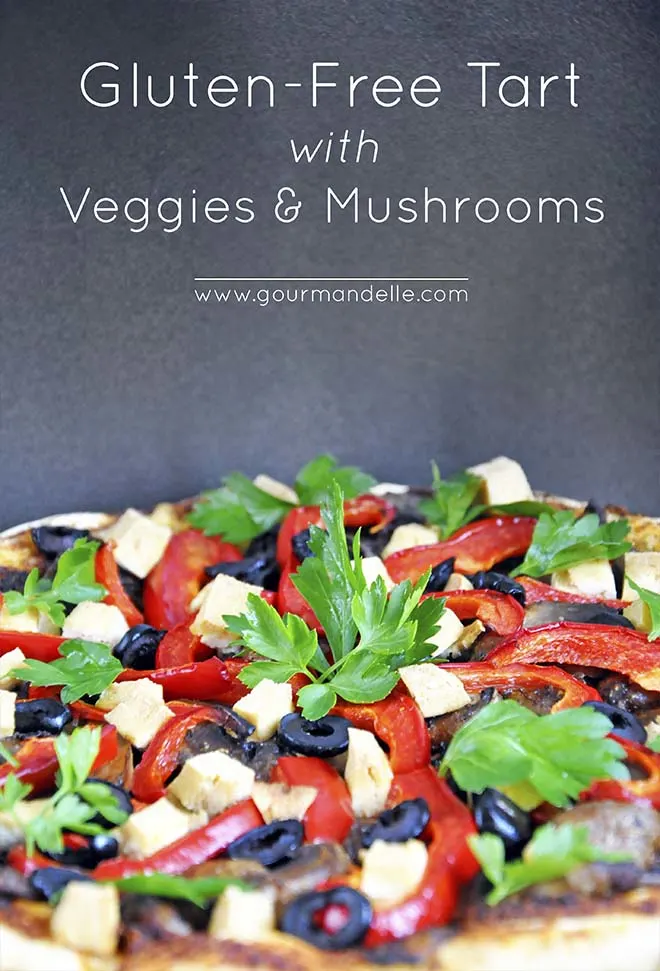 Yield: 6 servings
Gluten-Free Tart with Mushrooms and Veggies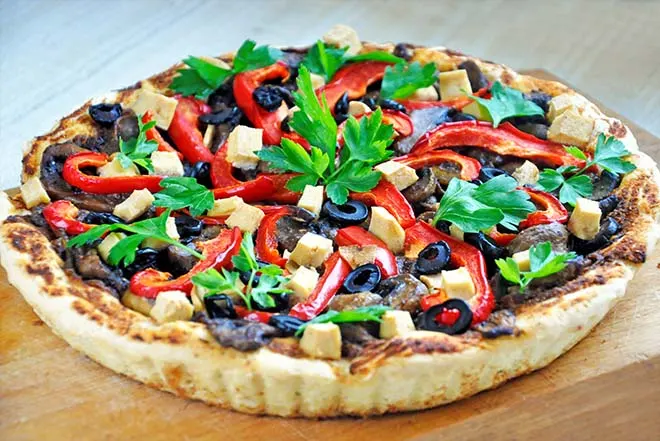 This is a gluten-free tart recipe with vegan mushroom and veggies filling. Learn how to make a delicious, crispy, gluten-free tart and pizza crust!
Total Time
1 hour
30 minutes
Ingredients
Crust:
250g (2 cups) gluten-free flour mix, I used Dr. Schar B flour mix
240ml (1 cup) warm water
4g (1 tsp) dry yeast
½ tsp sea salt
gluten-free breadcrumbs, the secret ingredient for a perfect crunchy crust!
Filling:
200g (1 ½ cups) mushrooms, sliced (I used button mushrooms)
1 onion, julienne cut
4 Tbsps black olives, sliced
1 red bell pepper, sliced
50g (¼ cup) smoked tofu, cubed
4 Tbsps tomato paste + 1 tsp dry oregano
salt and pepper, to taste
some olive oil
Instructions
Crust:
Add gluten-free flour mix, salt and dry yeast in the food processor. Set it on the lowest speed and slowly pour in warm water.
Take the dough out of the food processor. Put it in a bowl and cover with a clean towel. Leave it at room temperature for 45-60 minutes, until it doubles its volume.
Grease the tart form with some olive oil. Sprinkle it with breadcrumbs. Put the dough in the tart form. Spread it evenly using your hands (about 1 cm thick). The dough will be very sticky, don't worry, it's ok.
Spread the tomato paste + oregano mix on the base of the tart.
Add the filling.
Decorate the tart with red bell pepper slices, smoked tofu cubes and black olives.
Let it cook for 20 minutes at 200C.
Filling:
Heat some olive oil in a large pan. Saute julienned onion. Add sliced mushrooms, salt and pepper.
Cook for 10 minutes, then remove from heat.
Add filling over the dough in the tart form, and proceed as mentioned above.
Nutrition Information
Yield
6
Amount Per Serving
Calories

257
Total Fat

9g
Carbohydrates

36g
Protein

7.7g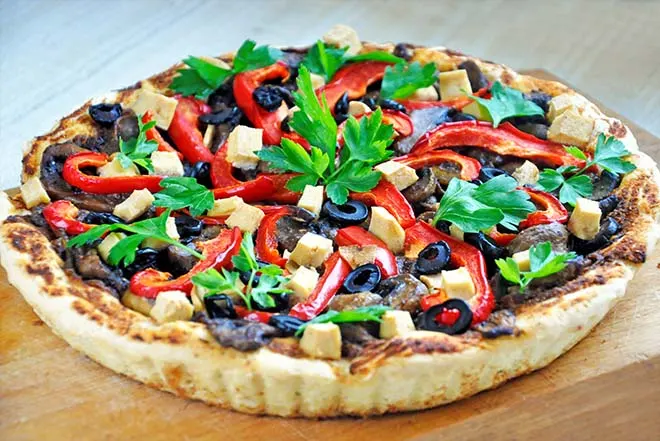 Want more vegetarian tart recipes? Check out these: