Reteta vegetariana, sanatoasa pentru salata de spanac cu rosii coapte, perfecta pentru vara. Salata de spanac este ideala pentru diete, deoarece este saraca in calorii si bogata in nutrienti. | Crunchy Spinach Salad with Roasted Tomatoes diet recipe, ideal for raw food diets and losing weight. This Summer spinach salad is low calorie and rich in nutrients! 
  Recipe in English
  Reteta in Romana
I could eat only salads and fruits all summer and I'd be happy! Well, maybe if someone would take care I have fresh, rinsed and sliced veggies. I am so lazy when it comes to making salads. I dislike the whole prepping process as I find it really boring. I like to have all veggies ready to just toss in the salad.
Eh.. this crunchy spinach salad is super easy to make. The roasted cherry tomatoes give it a special flavor which you'll love. Since I made this Summer Veggie Salad with Roasted Cherry Tomatoes I just can't eat fresh tomatoes anymore.
Fresh tomatoes are bland. Plus, it is known that roasted tomatoes are a lot healthier than the raw ones. Why? Well, tomatoes contain a powerful antioxidant called lycopene, which becomes even stronger when cooked. Don't forget to drizzle them with some olive oil before roasting. Lycopene is liposoluble so this well it will assimilate a lot faster.
Hope you like it!
Crunchy Spinach Salad with Roasted Cherry Tomatoes
Crunchy Spinach Salad with Roasted Tomatoes diet recipe, ideal for raw food diets and losing weight. This Summer spinach salad is low calorie and rich in nutrients!
Ingredients
about 25-30 baby spinach leaves
about 10 romaine salad leaves (or iceberg if you want some extra crunchiness)
6 cherry tomatoes, whole or sliced
1 large cucumber, sliced
3-4 strands of scallions, chopped
olive oil
salt and pepper
a lemon's juice
1/2 lg basil – if you have fresh even better, use a handful, chopped
Instructions
Rinse de veggies. Chop the salad leaves and place in a large bowl.
Drizzle the tomatoes with some olive oil and roast in oven or on stove.
Add sliced cucumber, scallions and roasted cherry tomatoes in the bowl. Mix.
Make the dressing: olive oil, salt, pepper, basil and lemon's juice.
Add dressing only right before serving.
http://gourmandelle.com/salata-de-spanac-spinach-salad/
Copyright: 2014 Ruxandra Micu | www.gourmandelle.com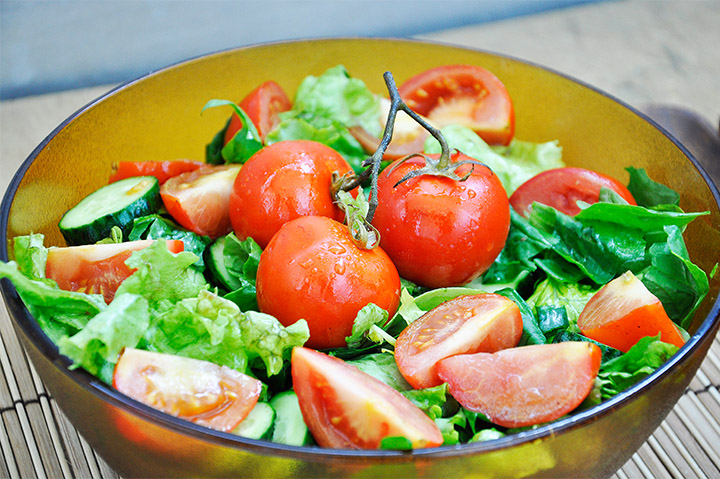 Vara as manca numai salate si fructe si as fi fericita! Asta doar daca ar sta cineva dupa mine sa imi pregateasca salatele :D. Nu stiu de ce sunt asa lenesa cand vine vorba de salate. Nu imi place sa stau sa spal si sa curat legumele, iar cand vine vorba de dressing, parca nu am inspiratie
Eh..aceasta salata de spanac sa stiti ca e super delicioasa si chiar se face foarte repede. Rosiile coapte o scot din anonimat. De cand am preparat salata de vara cu rosii cherrry coapte nu concep sa nu coc rosiile mai intai, inainte de a le pune in salata.
Rosiile crude sunt complet lipsite de savoare. Plus ca e bine sa stiti ca rosiile coapte sunt mult mai sanatoase decat cele fresh. Prin preparare termica, rosiile isi sporesc cantitatea de licopen, avand astfel o mai mare putere antioxidanta. Nu uitati sa adaugati si putin ulei de masline, pentru ca licopenul este liposolubil, asimilandu-se astfel mult mai bine.
Sa o incercati! Cu siguranta o sa va placa aromele si textura crocanta
Salata de spanac cu rosii coapte
Ingrediente pentru o salata de spanac ce satura 6 persoane:
vreo 25-30 de frunze de spanac baby
vreo 10 frunze de salata creata sau iceberg – pentru extra-crunchiness
6 rosii micute, intregi sau feliate
1 castravete mare, feliat
3-4 fire de ceapa verde, maruntite
ulei de masline extravirgin
sare si piper, dupa gust
sucul de la o lamaie
1/2 lg busuioc uscat (daca aveti proaspat cu atat mai bine, puneti cam un pumn)
Instructiuni:
Spala spanacul si salata. Salata rupe-o in bucati mai mici. Pune-le intr-un bol mare.
Stropeste rosiile cu ulei de masline si baga-le la cuptor, feliate sau intregi, pentru vreo 15 minute. Daca vreti ca rosiile sa fie gata in doar 5 minute atunci le puteti coace pe aragaz. Pune-le intr-o tigaie adanca, stropeste-le cu ulei de masline, si acopera-le cu un capac.
Adauga castravetele feliat, ceapa verde si rosiile coapte in salata de spanac.
Dressing-ul se adauga doar inainte ca salata sa fie servita.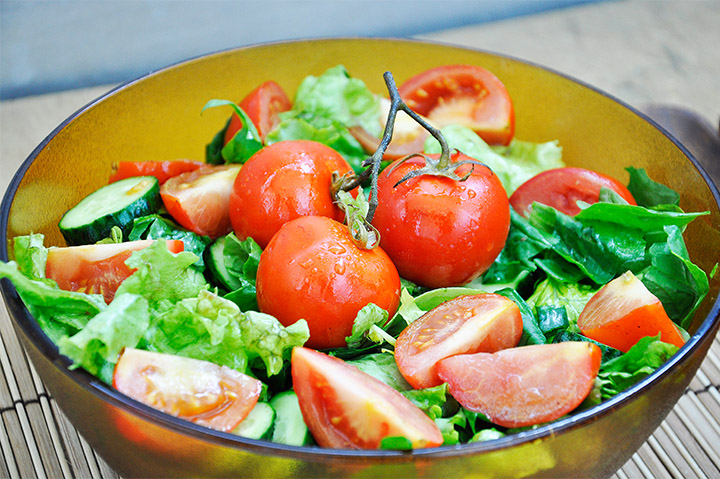 Cooksnaps