Reteta vegetariana, raw vegana pentru salata de vara cu rosii cherry coapte, aromata si gustoasa si cu putine calorii. | Vegetarian / Vegan Raw recipe for Summer veggie salad recipe with roasted cherry tomatoes.
  Recipe in English
  Reteta in Romana
I'm crazy about salads but I'm also super lazy and don't like making them. Yep, I always ask somebody else to do the boring work of chopping the veggies. In this case, I made this delicious summer veggie salad myself. There wasn't really that much work involved as it is ready super fast!
You'll love how all the flavors blend together and the roasted cherry tomatoes is the ingredient which makes the difference. This summer veggie salad can actually made any day throughout the year. It's a great addition to any vegetarian or meat-based recipe.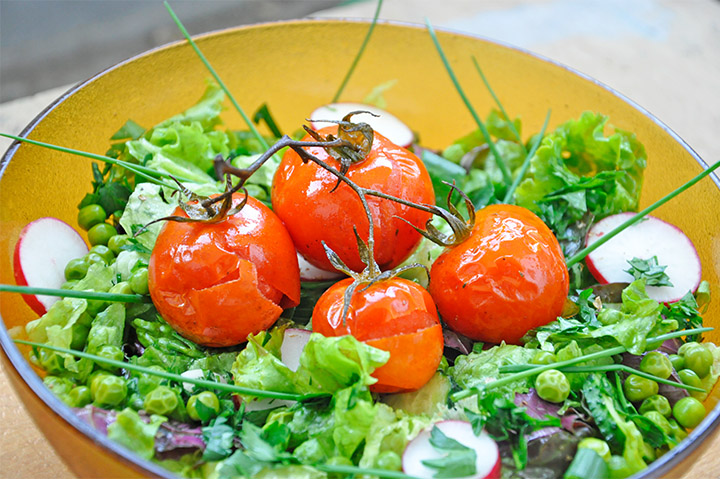 Summer Veggie Salad with Roasted Cherry Tomatoes
Vegetarian / Vegan | Raw recipe for summer veggie salad recipe with roasted cherry tomatoes.
Ingredients
5-20 salad leaves – any type of salad you want, I used Romaine
6-7 red orach leaves – or some kind of colorful salad
a bunch of radishes, sliced
cherry tomatoes
chopped parsley
4 strands of scallions
half a cup of peas, steamed
olive oil
salt and pepper
a lemon's juice
Instructions
Rinse all veggies very well. Cut the salad and red orach leaves and put them in a bowl. Slice the radishes and chop the parsley and scallions.
The cherry tomatoes can be either roasted in the oven or the stove. I prefer roasting them in a skillet on the stove as they cook a lot faster. So, all you have to do is place them in a skillet, pour some olive oil on them and cover with a transparent lid. They'll be ready in about 5 minutes. Check if they're moist.
If you have fresh or frozen peas you can use a steamer and steam it for 15 minutes, or you can use canned peas.
Make the dressing: Mix the olive oil, lemon's juice, salt and pepper.
Mix all ingredients together, except the cherry tomatoes and dressing. Add dressing only right before serving.
Put the roasted cherry tomatoes on top.
Serve!
http://gourmandelle.com/salata-de-vara-summer-veggie-salad/
Copyright: 2014 Ruxandra Micu | www.gourmandelle.com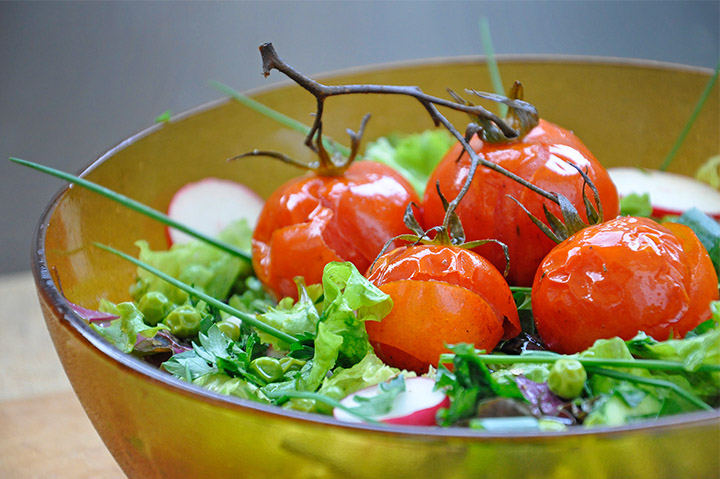 Imi plac salatele la nebunie insa sunt asa lenesa cand vine vorba sa le prepar. Trebuie sa recunosc ca nu imi place sa fac salate. Ma plictiseste groaznic treaba cu taiatul legumelor si la preparat dressinguri mai am de invatat retete noi
De obicei rog pe altcineva sa faca treaba de "robotel"
Eu prepar dressingul, amestec si…cam atat :).
Eh, in cazul asta am preparat aceasta salata de vara singura inca de la inceput si nu a fost nevoie de prea multa munca. Salata de vara cu rosii cherrry coapte se prepara super repede si este extrem de aromata. O sa va placa la nebunie sunt sigura! Rosiile cherry coapte sunt detaliul care fac diferenta…o explozie de arome!
Salata de vara cu rosii cherrry coapte
Ingrediente pentru un bol mare de salata de vara:
vreo 15-20 de frunze de salata creata – sau orice alt tip de salata
6-7 frunze de loboda
o legatura de ridichi
rosii cherry
patrunjel maruntit
4 fire de ceapa verde, maruntita
jumatate de cana de mazare facuta la aburi
ulei de masline
sare si piper
sucul de la o lamaie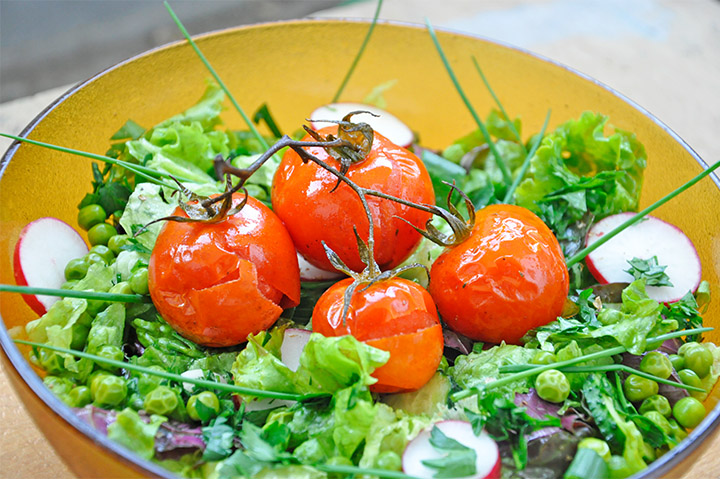 Instructiuni: 
Spala bine frunzele de salata si rupe-le. Pune-le in bol. La fel se procedeaza si cu cele de loboda. Eu prefer sa nu tai frunzele la salata, mi se pare mult mai usor sa le rup cu mana, in bucatele mai mici.
Spala bine ridichile si ceapa verde si marunteste-le. Pune-le si pe ele in bol.
Rosiile cherry se pot coace fie la cuptor fie pe aragaz. Prefer varianta pe aragaz pentru ca se fac mai repede in doar 3-4 minute. Astfel, ia o tigaie si stropeste-o cu ulei de masline. Pune rosiile cherry si stropeste-le si ele cu ulei de masline. Pune un capac – de preferat transparent – si lasa-le la foc mic 3-4 minute sau mai mult, pana se inmoaie rosiile.
Abureste mazarea sau folsoeste mazare la borcan, gata fiarta.
Amesteca frunzele de salata cu ridichile feliate, loboda, patrunjelul maruntit, ceapa taiata si mazarea.
Prepara dressing-ul: Ulei de masline, sare si piper, sucul de la o lamaie.
Dressing-ul se pune abia la sfarsit cand vrei sa serviti salata, nu inainte pentru ca isi va pierde aspectul frumos.
Rosiile cherry se pun deasupra.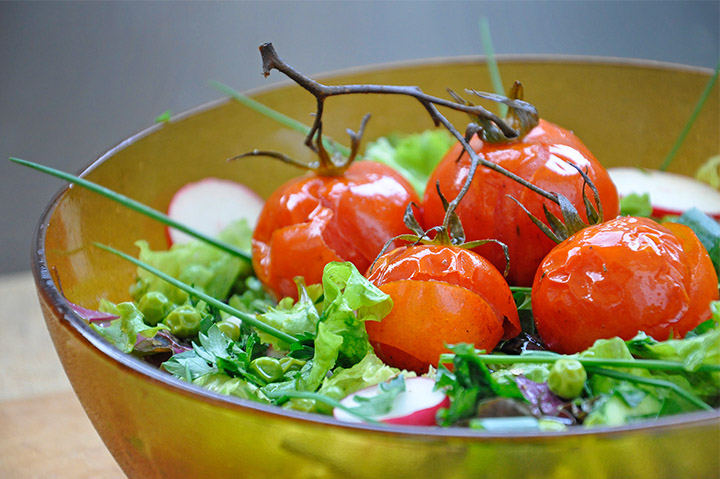 Cooksnaps