Change language | Schimba limba: Romanian
Vegan recipe for summer veggie salad recipe with roasted cherry tomatoes and fresh green peas, plus a delicious low calorie dressing recipe. 
I'm crazy about salads but I'm also super lazy and don't like making them. Yep, I always ask somebody else to do the boring work of chopping the veggies. In this case, I made this delicious summer veggie salad myself. There wasn't really that much work involved as it is ready super fast!
You'll love how all the flavors blend together and the roasted cherry tomatoes is the ingredient which makes the difference. This summer veggie salad can actually made any day throughout the year. It's a great addition to any vegetarian or meat-based recipe.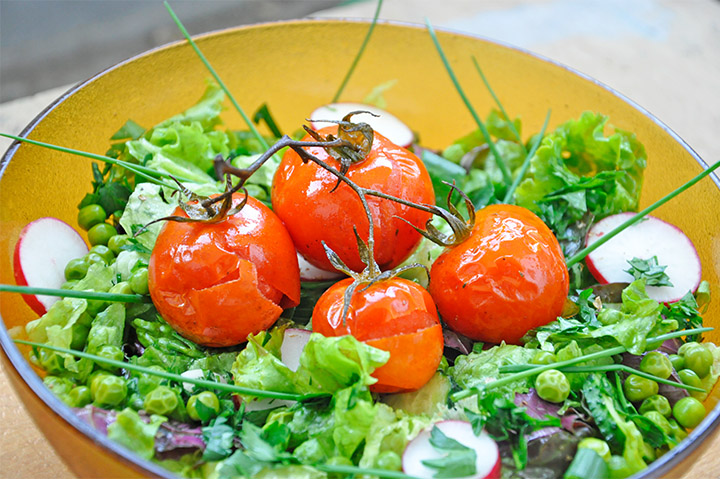 Summer Veggie Salad with Roasted Cherry Tomatoes
Vegetarian / Vegan | Raw recipe for summer veggie salad recipe with roasted cherry tomatoes.
Ingredients
5-20 salad leaves – any type of salad you want, I used Romaine
6-7 red orach leaves – or some kind of colorful salad
a bunch of radishes, sliced
cherry tomatoes
chopped parsley
4 strands of scallions
half a cup of peas, steamed
olive oil
salt and pepper
a lemon's juice
Instructions
Rinse all veggies very well. Cut the salad and red orach leaves and put them in a bowl. Slice the radishes and chop the parsley and scallions.
The cherry tomatoes can be either roasted in the oven or the stove. I prefer roasting them in a skillet on the stove as they cook a lot faster. So, all you have to do is place them in a skillet, pour some olive oil on them and cover with a transparent lid. They'll be ready in about 5 minutes. Check if they're moist.
If you have fresh or frozen peas you can use a steamer and steam it for 15 minutes, or you can use canned peas.
Make the dressing: Mix the olive oil, lemon's juice, salt and pepper.
Mix all ingredients together, except the cherry tomatoes and dressing. Add dressing only right before serving.
Put the roasted cherry tomatoes on top.
Serve!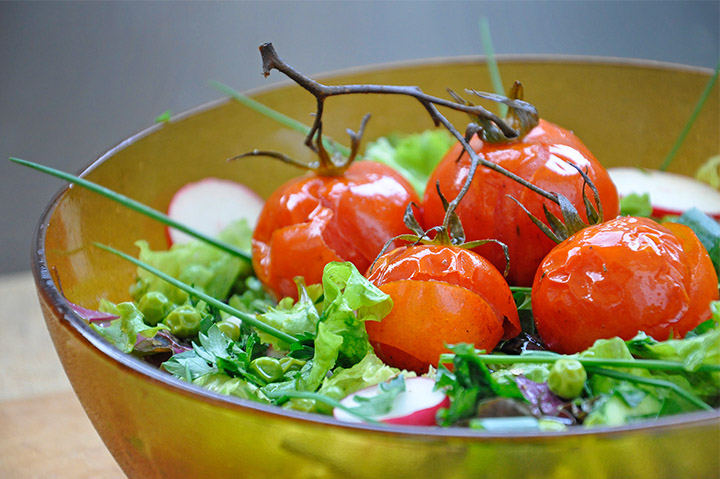 Summer Veggie Salad with Roasted Cherry Tomatoes
was last modified:
May 24th, 2014
by