Reteta simpla pentru sos de iaurt cu chili / ardei iute, menta proaspata si ulei de masline. Sosul se poate folosi atat la preparate vegetariene cat si la preparate cu carne. Merge de minune servit peste legume la cuptor. | Chili Mint Yogurt Dip Recipe inspired by Jamie Oliver. This spicy chili and mint yogurt dip, goes great served with oven-roasted veggies!
  Recipe in English
  Reteta in Romana
I don't remember exactly how I got the idea to make this spicy chili yogurt dip. I think I saw a similar recipe on Jamie Oliver's show, as I know he's crazy about chilies and all spicy things :). Anyways, you'll love it! Even if you're not that big of a chili fan, this dip will surely please you. It's not that spicy either, because mint and yogurt somehow 'neutralize' the spiciness. It has a great flavor and goes great with Spring roasted veggies and Baby Potatoes Frittata with Teleme Cheese, or any other dish you want to serve.
This chili and mint yogurt dip is extremely easy to make as you'll need just a few ingredients. Tip: Use full fat, REAL yogurt, not that low fat crap you find on supermarkets. Full fat is a lot healthier than low fat yogurt, trust me. Plus the taste is horrible for low fat ones because they add so many additives.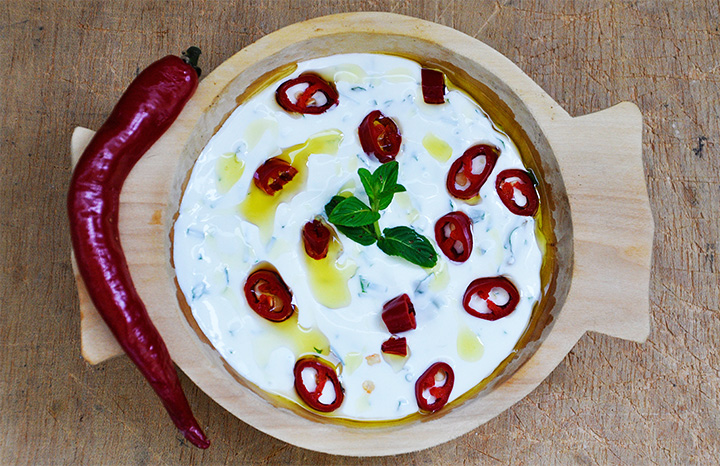 Spicy Chili and Mint Yogurt Dip
Chili Mint Yogurt Dip Recipe inspired by Jamie Oliver. This spicy chili and mint yogurt dip, goes great served with oven-roasted veggies!
Ingredients
a cup of REAL yogurt or sourcream –

if you use sourcream you may need to dilute it a little bit to be creamier

a handful of chopped, fresh mint leaves
1-2 chilies, sliced
extra-virgin olive oil
Instructions
Put the yogurt in a bowl.
Add chopped mint leaves and sliced chilies.
Blend well and serve with olive oil on top.
http://gourmandelle.com/sos-de-iaurt-cu-chili-menta-spicy-chili-mint-yogurt-dip/
Copyright: 2014 Ruxandra Micu | www.gourmandelle.com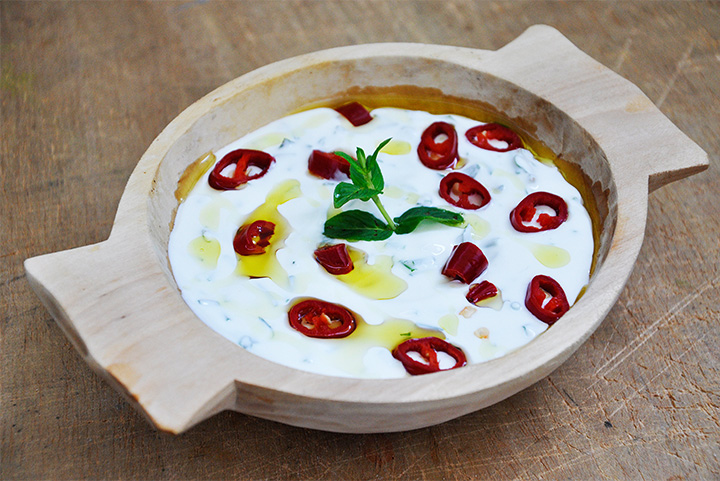 Nu mai stiu cum mi-a venit ideea sa fac reteta asta de sos de iaurt cu chili. Cred ca am vazut odata la Jamie, pentru ca stiu ca el e innebunit cu chili si cu mancarurile iuti. Mi se pare un sos minunat! Nu este foarte picant deoarece iaurtul si menta 'neutralizeaza' iuteala ardeiului. Este in schimb un sos de iaurt cu chili extrem de aromat, care cu siguranta iti va gadila papilele gustative :). Eu l-am preparat pentru Legume de primavara – rosii cherry, morcovi si cartofi noi la cuptor si Frittata cu cartofi noi si branza telemea. Este super combinatia :).
Acest sos de iaurt cu chili se face extrem de usor si nu ai nevoie decat de cateva ingrediente. Te-as sfatui sa folosesti iaurt adevarat de tara, nu prostiile alea fara grasimi cu gust de aracet. Poti folosi si smantana mai grasa, diluata un pic cu apa pentru a-i da o consistenta mai cremoasa.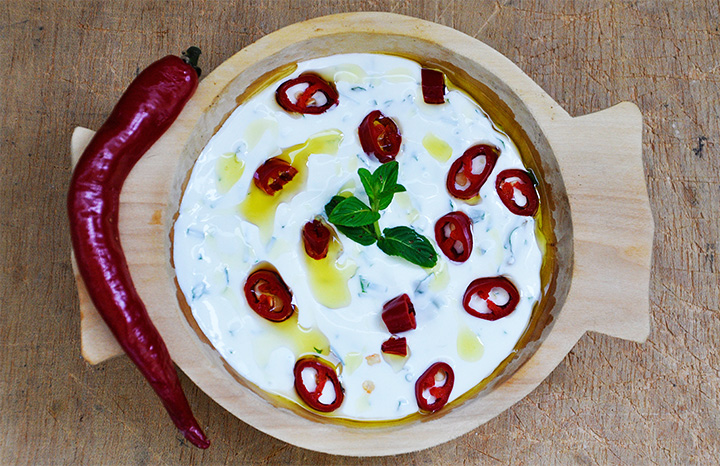 Sos de iaurt cu chili si menta
Ingrediente:
o cana cu iaurt de tara sau smantana adevarata grasa
un pumn de menta proaspata maruntita
1-2 ardei iuti, feliati
ulei de masline extra virgin
Instructiuni:
Pune iaurtul intr-un bol.
Adauga menta maruntita si ardeiul iute feliat.
Amesteca bine si serveste-l cu ulei de masline pe deasupra.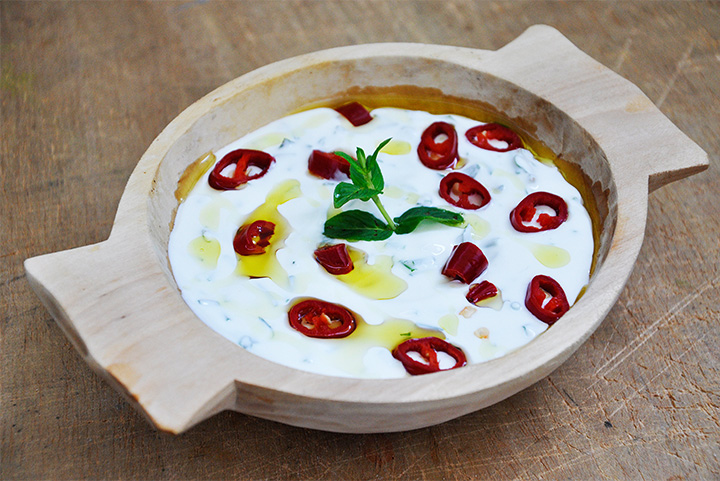 Cooksnaps