Tuna Stuffed Hard-Boiled Eggs | Oua umplute cu ton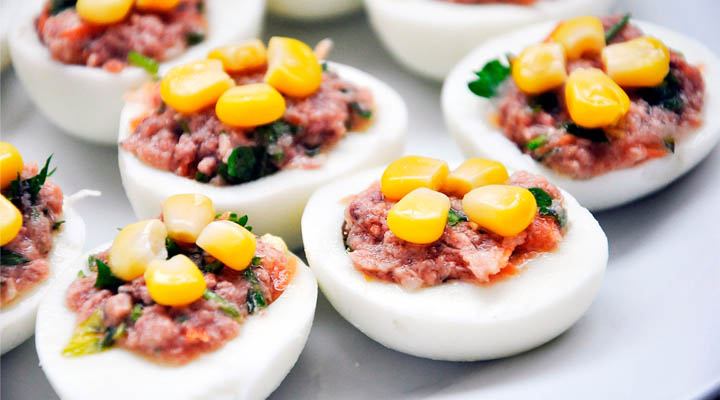 This is a very easy appetizer ready in less than 15 minutes. All you need to do is boil some eggs and mix some ingredients, then store in the fridge until the guests arrive. I made this for the New Year's Eve party and it was a success!
I don't eat fish and seafood very often; once or twice a year is enough for me. It is the only type of meat that I eat so that's why I can't say I'm 100% vegetarian. Anyways, I also made this appetizer because I had non-vegetarian guests and I had to feed them with something familiar to them. This was the only meaty recipe on the table.
So, all you non-veg. readers this recipe is for you!
More tuna recipes? Check out this pizza recipe, perfect for parties! 30-Minute Tuna & Veggies Pita Pizza
Ingredients:
6 hard boiled eggs, halved
1 tuna can, drained
1/2 small onion, grated *
1/4 cup carrot, grated
1/3 cup chopped parsley
1 tbsp freshly squeezed lemon juice
corn, for garnish and crunchy texture
Directions:
In a medium bowl, add the drained tuna, lemon juice, chopped parsley and grated onion and carrot. Mix well.
Scoop out the boiled yolk of each halved egg and add 1 tsp of tuna stuffing.
Garnish with parsley or corn.
* Also add the onion juice that resulted during grating.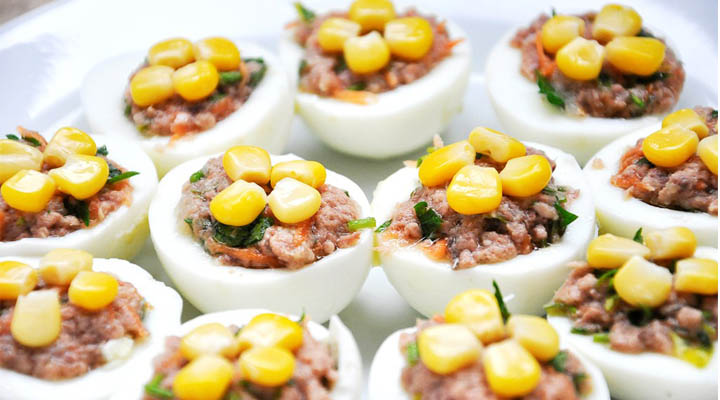 Studenta la arhitectura si web designer cu o pasiune pentru nutritie, alimentatie sanatoasa si blogging. | Freelance graphic/web designer and architecture student with a passion for nutrition, healthy eating and blogging.
Latest posts by Gourmandelle (see all)