Change language:

Română
This is the first time I write a "Year in Review" post but 2017 has been an important year for me and it deserves a proper mention here on my blog.
Also, I've been told my blog is a little bit impersonal and that I should share more about myself. This will be difficult because I'm quite a private person. You've probably noticed this on my Facebook and Instagram accounts that I rarely share photos of myself. I think I take less than 5 selfies a year. Haha! What a weirdo, right?! :))
Anyway, I decided to take that advice into consideration and share with you some personal things from time to time. I hope you'll do the same! I read dozens of emails from my readers every day and we've helped each other with pieces of advice on different matters, from nutrition and recipes to life as a whole. It's miraculous to me how easily we can connect these days and finding people with whom I resonate so much will always amaze me and make me happy. 🙂 So feel free to send me an email or a comment, I promise I will answer.
So, here's my year in review. In 2017 everything has been on high-speed for me. It was the year that helped me get out of my comfort zone, try new things and get to know myself better. Here's what I did in 2017. You can also watch the video below. I won't be in it too much because Costin is not a big fan of taking photos. He would suck at being an "Instagram model"'s boyfriend. Lucky for him I'm not a photoholic either. 🙂
1.It ended how it started – with a party! 
Last year's New Year's Eve was spent with some old and new friends at a lovely cabin at the mountain. We had an amazing time and had so much fun. Little did we know what was expecting us in January! :))
2017 ended with another party, a smaller one this time, at another great cabin in the mountains. We laughed so much during our small vacation, enough for the whole 2017 all over again! :))
2. I stepped out of my comfort zone and learned how to better deal with stress and anxiety. 
The beginning was tough, and it was the second most stressful time of my life. I tend to over-exaggerate things and worry too much and that first couple of months really did a number on me. I saw the side-effects only in mid-year when my hair started falling like crazy due to the high-stress period I had at the beginning of 2017.
I don't know if you remember, but that was when I went to Milano and lived there for 4-5 months. It was beautiful but the first month was hellish. :))
Anyway, I realized that I should stop worrying that much and do something to control my anxiety issues (I've been living with high-functioning anxiety for such a long time. It has its pros and cons. It helped me grow professionally and made me an overachiever but it also messes up with my mind and overall well-being. The good part is that I finally realized this is an issue and learned how to keep it under control. So all the bad had a good outcome after all. 🙂
3. I traveled more and ate some meals I'll remember forever.
I'm more of an indoorsy person, but this year a traveled more than usual. Our 4-months stay in Italy really opened out appetite for traveling. Unfortunately, because Costin went there on an internship, we didn't get to visit everything we wanted to, just the surroundings of Milan, but it was awesome nonetheless.
We made new friends, learned a little bit of Italian and ate some pretty AMAZING stuff! Here are some of my best meals below: vegetarian dim sum from a lovely restaurant in Milano (it's somewhere on street Pietro Borsieri I think, can't remember its name), ate edamame for the first time and fell in love with it, drank some of the best cocktails ever, ate Mimi's (my cousin)'s awesome pancakes with pistachio butter, ate LOTS of pasta, ate the best fries EVER at a brunch restaurant in Milan, fell in love with the chocolately muffins from a cafe in our neighbourhood (Istria), learned how to bake pizza on the stove and had a beautiful Easter lunch (the first one away from family) with some new friends.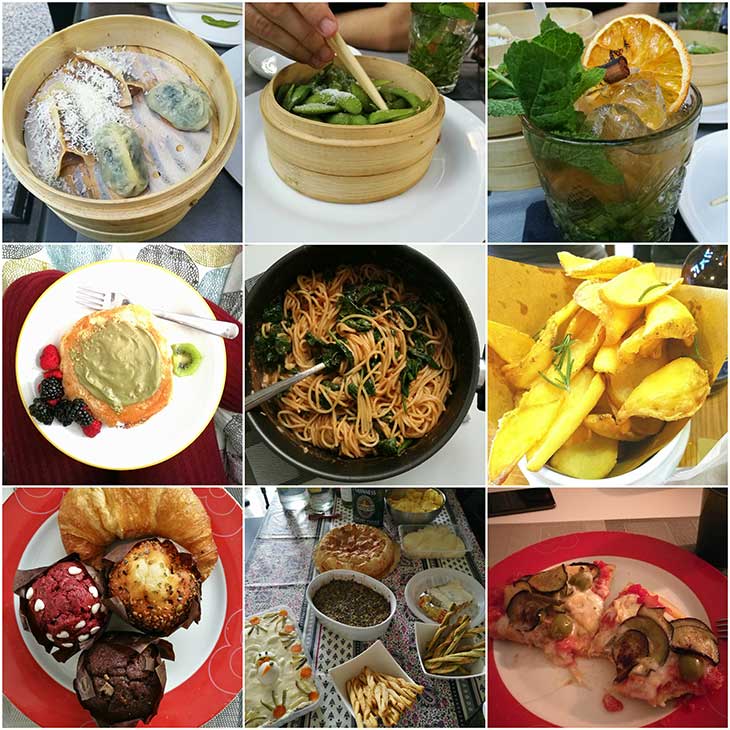 4. My professional life skyrocketed. 
A lot of work was involved. A LOT! I learned so much and got some of the best clients I could ask for (I'm a web designer / digital marketing specialist). I helped grow businesses from scratch and this is one of the most fulfilling things ever. I started working with clients from all over the world, from Romania to Canada, Australia, UK, and US.
I simply love my job, even though being an entrepreneur is definitely not easy, I learned to balance it all out and even though I had my share of difficult moments, the outcome was better than expected.
What helped me grow professionally? Besides the eagerness to learn new things and give more than 100% to every one of my clients, there were two books I read which changed my life – Tim Ferriss' – The 4 Hour Work Week and Mel Robbins' – 5 Second Rule. Read them. They're lifesavers.
5. Everything is possible with hard work, dedication and a good mindset.
How cliché, right? Well, it may sound like a cliché but it doesn't make it less true. Changing the way I think and struggling to have a positive mindset helped me get to where I am now. It isn't easy because if it was, everyone would do it, but it's worth the struggle.
I discovered stoicism and this helped too. Look into it, maybe you'll resonate with the principles as well.
So this is it.
What about you? How was your 2017? Leave me a comment below or a message on social media and let's connect! 😀