When I think of vegan cakes and raw vegan desserts, there are a few names and blogs that pop into my mind, and, naturally, Rainbow Nourishments is totally one of them! That's why I decided to help you guys get to know her better by putting together the interview below. Her story is really interesting and her blog is definitely one that you should follow, even if you're not vegan!
Raspberries, dragon fruit, chia, strawberries, matcha, chocolate, almonds – Anthea takes all these colorful and healthy ingredients and turns them into amazing desserts. She also loves savory meals, of course, so you will find a wide range of amazing meals on her blog, too. She learned how to make raw desserts by herself and I couldn't be happier that she decided to turn her passion into what's now called Rainbow Nourishments!
Go ahead and read this interview and don't forget to take a look around on Rainbow Nourishments because it's full of delicious goodness and colorful meals and desserts!
P.S. Want to read more interviews with my favorite bloggers? Check out Veggie Stories!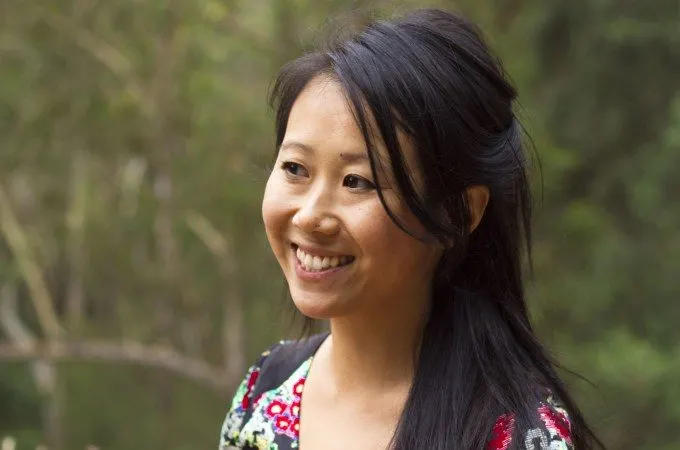 What made you turn vegan?
A: I'm vegan for the environment, animals and my health! It's a long story, to be honest. I first tried going vegan was I was 14 for my health and the environment but didn't do very well as I didn't have a balanced diet. While I didn't stick to my vegan diet, I cut out all dairy and minimized red meat. Over the next decade, I learned a lot about environmentalism and how to minimize my carbon footprint. It felt completely natural to minimize then cut out all animal products. The rest is history!
When and how did you discover your passion for cooking?
A: I grew up with parents who owned restaurants and catering business so was always around food. I helped in their restaurants and in the home kitchen as a way to bond (and of course obligation haha). I was passionate about baking as a child and carried this through to my adulthood.
From heavenly cheesecakes to sweet snacks and raw tarts packed with all kinds of fruit, Rainbow Nourishments shows us an amazing world where vegan desserts (but not only) are full of flavor and color! What's the story behind your blog and how it all started?
A: Aw, thank you soo much! A few years ago, I was feeling a bit disconnected in my full-time job and in my local community. I started Rainbow Nourishments as a way to focus on my passions and to connect with like-minded people in the local and international community. I've actually always had a blog or website for the last 15 years but I wanted to be more serious about this one!
What would you consider to be your greatest achievement since you started Rainbow Nourishments?
A: Oh, I don't know! I don't often think about my achievements but what I can do to make Rainbow Nourishments better for other people. I guess my biggest achievement is just surviving as having this as my full-time job. It's definitely not easy!
You also started your own raw vegan cake business in Canberra, Australia almost two years ago. How did you get this idea and how did you manage to bring it to life?
A: To be honest, my cake business started by accident! My friend's mother was turning 60 and I offered to make her a raw vegan cake. It was a blueberry and salted caramel and was pretty average-looking in my opinion. I took a photo of the cake, posted it on a local vegan Facebook group then I started getting cake orders from strangers around the city! The second cake I made went viral in my local community and on the internet. My cake business just evolved from there!
How hard is it to manage both your vegan blog and your cake business and what are the most important things you learned along the way?
A: Managing Rainbow Nourishments has definitely been one of the hardest things I've ever done. There are so many things that I have to stay on top of including: producing new recipes, creating new photographs/videos, liaising with sponsors and businesses, managing catering orders, managing custom cake orders, managing staff, organising workshops, pop-up events, markets, festivals and seeking new opportunities internationally and responding to customers/followers etc. The money isn't consistent and I work ridiculously long hours.
Anyway, through this journey, I've learned to trust my gut instinct with big decisions and with everyday things. I've learned a lot about myself that no other training/job/relationship could teach me and I know more than I give myself credit for. It's also important to separate interpersonal relationships from business, as much as possible.
What are the top 3 pieces of advice you give everyone that wants to make a change and turn vegan?
1. Be realistic with how quickly you want to make the transition. You know your body the best (unless you have an eating disorder).
2. Not all vegan food is for everyone, so take some time to experiment so you figure out what you like.
3. Be kind to yourself if you make mistakes!
Favorite fruit and favorite vegetable in the world?
A: I love bananas and you'll almost always find them in my freezer. I am having a banana cacao smoothie as I type this out! I also love zucchinis as they are so versatile!
What are the top 3 most popular recipes on your blog?
A: Raw Vegan Lamingtons with Cashew Cream and Raspberry Jam, My All-Time Favourite Pizza Recipe and the Pink Dragon Fruit Layer Cake
And your top 3 favorite recipes ever that you're always eager to make?
A: Almond Butter Mousse and Blueberry Jelly Slice, Easy Vegan Alfredo Pasta and Baked Vegan Cheesecake.