Middle Eastern Gluten-Free Vegan Pizza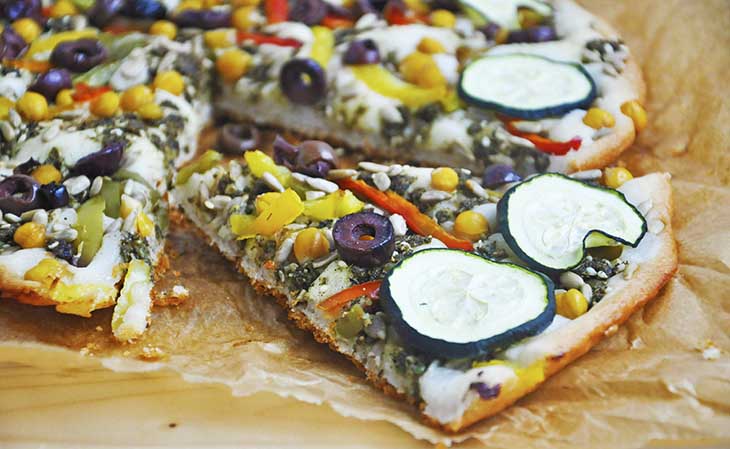 For gluten-free vegan pizza crust:
250ml warm water
2 Tbsps olive oil
½ tsp sea salt
10g dry yeast
+ 1 Tbsp sunflower oil for greasing
For toppings
½ zucchini, sliced
4 eggplant slices - optional -
3 Tbsps sliced Kalamata olives
3-4 Tbsps sweet corn
4 Tbsps boiled chickpeas
½ cup sliced red bell peppers - I used frozen, mixed colors
1½ Tbsp za'atar + 1 Tbsp olive oil + 3 mashed garlic cloves
some pine nuts (I didn't have any so I used sunflower seeds instead)
tahini, to taste
Mix all pizza crust ingredients into a large bowl. Mix using a spoon.
The dough will be extremely sticky and moist. Don't worry, this is just as it is supposed to be.
Cover an oven tray with some parchment paper and lightly grease it.
Pour the dough right in the middle.
Start spreading it using the tablespoon, using circular motions, from the inside to the outside. You want to give it a somewhat circular shape.
When the pizza crust has an almost-round shape, grease your hands with some oil and start shaping its margins and make it even rounder. You can even press it on top. If it gets sticky, just grease your hands some more.
Mix za'atar with olive oil and mashed garlic cloves. Spread this all over the pizza crust, using a spoon.
Add the rest of the toppings.
Cook in oven at 200C for 30 minutes or so.
Serve with a drizzle of tahini on top.