Spinach Cannelloni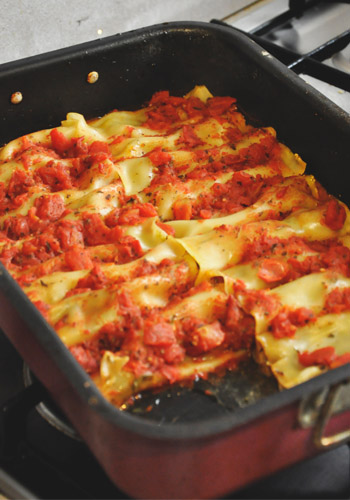 200g feta cheese
2 cups fresh, canned or frozen spinach (if frozen let it thaw first)
1 pack of cannelloni (about 18-20 pieces per pack)
5 tbsps tomato sauce
1 cup peeled, cooked and chopped tomatoes (I used homemade but you can use canned too)
1 tsp dry basil
1 tsp dry oregano
olive oil
salt and pepper, to taste
In a large bowl, mix together feta cheese with spinach. Mash them with a fork.
Start stuffing the cannelloni using a small fork or teaspoon. Stuff them until they're full.
Spray an oven tray with some olive oil.
Place the cannelloni in the oven tray.
In another bowl, add tomato sauce, peeled & chopped tomatoes, oregano, salt, pepper, and basil. Mix well and pour over the cannelloni in the tray. Spread evenly.
Add some water in the tray; not much, just a little, about ¼ cup.
Cover with aluminum foil and place in the oven at 160-180 degrees Celsius.
Cook for about half an hour then serve!