Mini Apple Cinnamon Rolls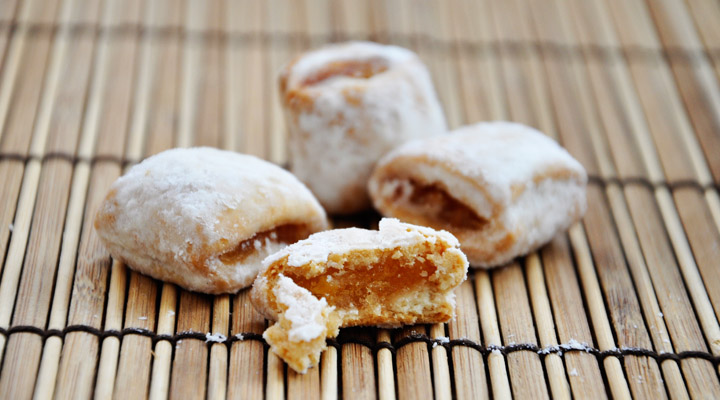 500g all-purpose flour
Dough:
1 tsp baking soda mixed with 1 tsp lemon juice
a pinch of sea salt
1 200ml glass filled with ½ water and ½ oil
Filling:
1kg apples, grated
approx. 150g sugar
3-4 tsp cinnamon
In a large skillet, add grated apples, cinnamon, and sugar. Cook over low heat until the apples are soft and moist while stirring continuously. When they're ready leave them to cool down while making the dough.
In a large bowl, add flour. Make a hole in the flour and add the teaspoon of baking soda in that hole. Over the baking soda pour 1tsp of fresh lemon juice. Pour the glass filled with oil and water, little by little, while mixing using your hand. Knead the dough until it has a paste-like consistency and it's smooth and elastic.
Place the dough on a lightly floured work surface. Roll the dough out into a large rectangle.
Cut 5 cm strips out of the dough (1.). On each strip, on one-half of the strip, add the apple filling and spread it evenly (2.). Roll the strip and press it a little (3.) . Do the same with the other strips. See instructions below.
Preheat the oven to 200C/400F. Place the large rolls on the baking tray (with parchment paper). Bake the rolls in the oven for 25-35 minutes. Remove the rolls from the oven and set aside to cool on a cooling rack.
Cut the rolls in 2cm mini rolls (4.) . Sprinkle with powdered sugar (optional).