Vegan Meatloaf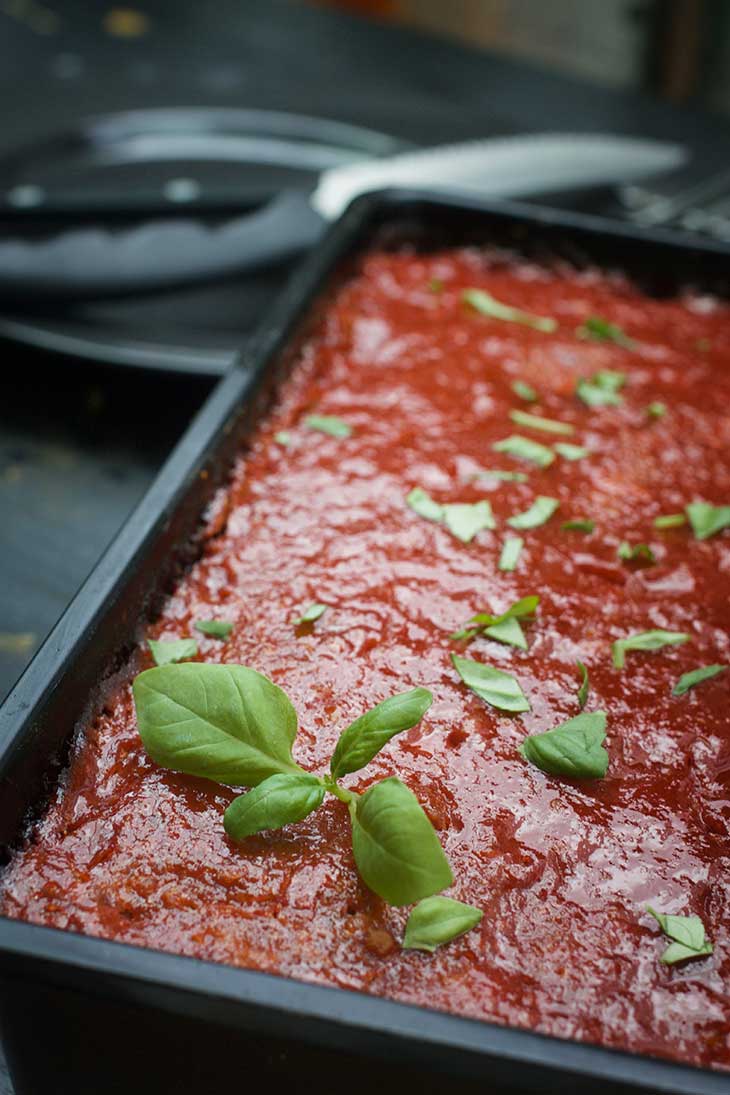 3 cups cooked chickpeas
1 small red bell pepper, finely chopped
1 small yellow bell pepper, finely chopped
½ red onion, finely chopped
½ white onion, finely chopped
2 Tbsp soy sauce
3 Tbsp olive oil
2 cloves garlic, crushed
2 cups breadcrumbs
2 Tbsp barbecue tomato sauce
1 Tbsp tahini
2 Tbsp flax egg
2 Tbsp nutritional yeast
1 Tsp salt
1 Tsp pepper
½ Tsp liquid smoke
½ Tsp smoked paprika
¼ Tsp Cayenne pepper
1 Tsp dry basil
fresh basil and rosemary for serving
For the glaze:
⅓ cup homemade ketchup
½ Tsp smoked paprika
1 Tbsp white wine
1 Tbsp lemon juice
1 Tsp brown sugar
1 Tsp maple syrup
1 Tsp mustard
Preheat the oven to 180C.
Brush a loaf pan with some oil and set aside.
For the glaze:
In a small bowl, stir all the ingredients with a mixer until smooth. Set aside.
For the loaf:
Add all the ingredients to a food processor and pulse several times until the ingredients are combined but the chickpeas are not completely crushed.
Transfer to the loaf pan and put it in the oven.
Bake for about 20 minutes.
Take the meatloaf out of the oven and spread the tomato glaze on top.
Return to the oven and cook for 20 more minutes.
Let it cool, top with some fresh greens and serve.