Vegan Philly Cheesesteak Sandwich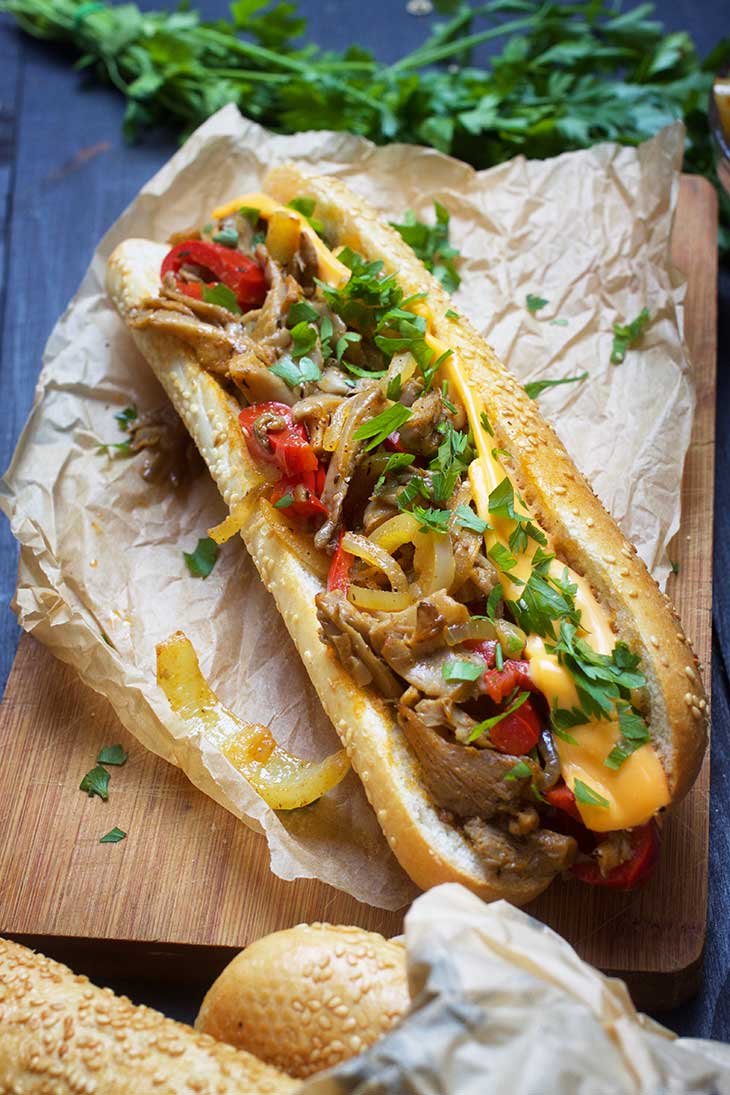 1 Tbsp extra-virgin olive oil
1 yellow pepper, thinly sliced
1 red pepper, thinly sliced
1 large yellow onion, julienned
1 tsp Himalaya salt
9 slices vegan cheddar
4 hoagie rolls
For the vegan steak:
500g Oyster mushrooms
Spices:
1 tsp brown sugar
1 Tbsp vegan barbecue sauce
3 Tbsps coconut oil
2 Tbsps white wine
¼ tsp all-spice
⅓ tsp thyme
¼ tsp coriander, ground
⅓ tsp pepper, ground
½ tsp sweet paprika
½ tsp smoked paprika
¼ tsp mustard powder
½ tsp garlic powder
½ tsp onion powder
1 tsp cumin
½ tsp anise powder
sea salt, to taste
Heat a tablespoon of oil in a large skillet over medium heat. Add peppers and onions and season with salt. Cook, stirring until caramelized for about 15 minutes.
Remove the onions and peppers from the skillet and set aside.
For the "steak":
Slice mushrooms into thin, long strips. Put them into a bowl.
Add the spice mixture. Mix well.
Place them all in a large pan, over medium heat.
Sautee for 20 minutes. Add a little bit of water if necessary, so the mushrooms won't burn. When ready, remove from heat.
Add the cooked veggies mixture and stir to combine.
Cover the mixture with vegan cheese and cover with a lid. Cook for 1 more minute.
Divide the mixture in the hoagie rolls and serve with some fresh chopped parsley on top.