Mexican Sweet Corn Soup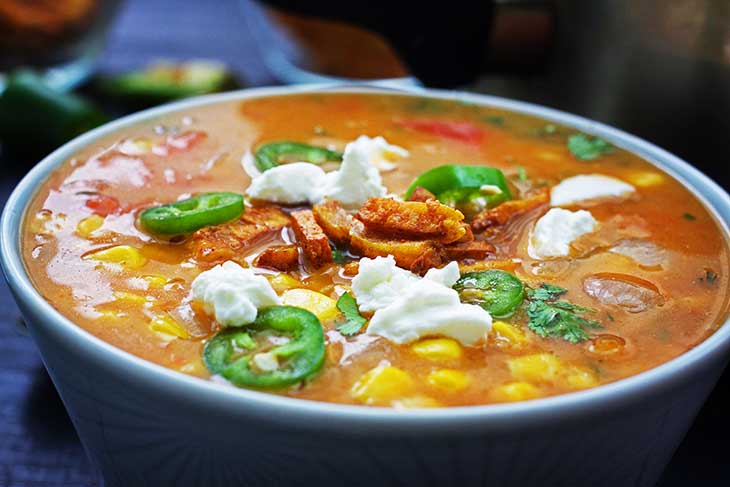 4 Tbsp olive oil
1 large onion, chopped
1 jalapeno, minced
1 large tomato, peeled and diced
3 cloves garlic, crushed
2 Tbsp tapioca flour
2 Tbsp ground cumin
4 cups veggie broth
6 cups sweet corn
1 Tbsp coconut sugar
1 Tsp salt
½ Tsp black pepper
400g can of coconut milk
For topping:
3 Tbsp fresh cilantro, chopped
1 jalapeno, sliced
1 cup vegan cream cheese - optional
Vegan bacon:
½ block extra firm smoked tofu, sliced into strips
1 Tbsp olive oil
1 Tsp smoked paprika
Heat the olive oil in a large saucepan over medium heat.
Add onions, jalapeno, garlic, and cook, stirring occasionally for about 5 minutes, until the onion is translucent.
Add tapioca flour and cumin, stir to combine.
Add the diced tomato and cook for about 2 more minutes.
Add corn and pour into the veggie broth.
Add salt, pepper and coconut sugar.
Stir well to combine all the ingredients.
Simmer for about 7 minutes.
Add coconut milk, stir to combine, cover and let it sit.
Meanwhile, prepare your bacon.
In a skillet over medium heat, add olive oil. Add the sliced tofu and paprika. Cook, stirring occasionally, for about 8 minutes, or until the tofu pieces are crispy and golden.
Serve the corn soup with chopped cilantro, jalapenos, vegan cream cheese and tofu bacon on top.