Vegan Taco Casserole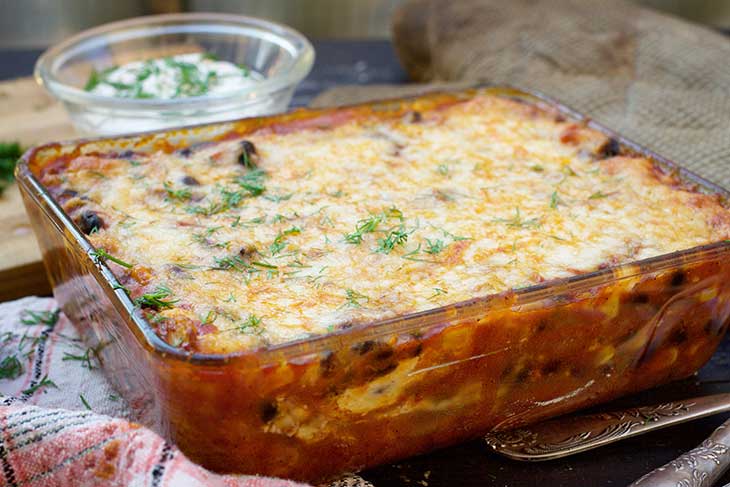 1 cup tofu, crushed
1 cup black beans, cooked
1 cup sweet corn, cooked
2 cups tomato sauce
6 large tortillas - you can use GF if you want
1 Tbsp olive oil
1 onion, diced
1 tsp chili powder
1 tsp cumin
1 tsp garlic, crushed
½ tsp salt and pepper to taste
1 cup vegan cheese, shredded (or for the vegetarian version, use any cheese you want)
Preheat the oven to 200C.
Heat the olive oil in a skillet over medium heat. Add the onion and saute until translucent.
Add the tomato sauce, chili powder, cumin, garlic, salt and pepper and cook for about 8 minutes.
Brush a casserole with some olive oil.
Spread a layer of tortillas on the bottom of casserole.
Cover with ⅓ cup tomato sauce
Spread a layer of crushed tofu over the tortillas then top with a layer of corn, beans and ⅓ cup vegan cheese.
Top with 2 more tortillas and repeat the layers 2 times.
Cover with foil and bake for about 30 minutes. Remove the foil and bake 10 more minutes, until golden. Top with some fresh greens and serve with a spoon of vegan yogurt.