Vegetarian "Beef" Burger | Adzuki Beans Veggie Burger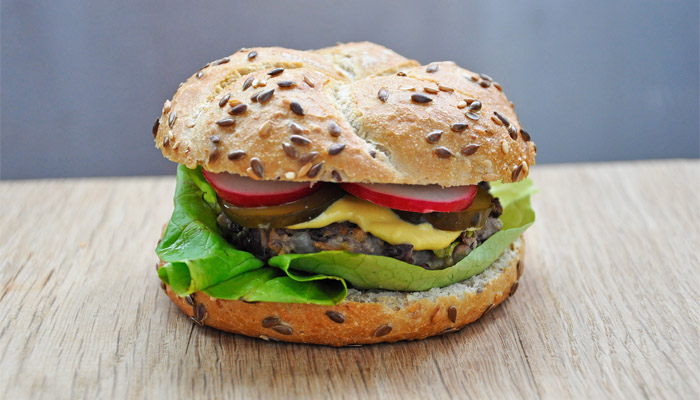 Serves:
15+ adzuki burger patties
150g adzuki beans, previously soaked for at least 5 hours (it is best to let them soak overnight)
1 medium onion, chopped
1 small carrot, grated
6-7 young salad leaves, chopped
2 Tbsps ground flax + 3 Tbsps water (or one large egg)
2 Tbsps fresh chopped parsley
breadcrumbs or chickpea flour (you can also use regular wheat flour – you'll need it if the composition is too moist)
sea salt and ground pepper, to taste
1 tsp thyme + ½ tsp ground coriander + ½ allspice or burger spices mix (optional – if you want it to taste even more like beef burgers you can add a spices mix, but be sure it's natural and additive-free – if you add spices mix you won't need to add salt and pepper as it most likely already contains them)
Mix the ground flax and water in a small bowl and set aside for 5 minutes to thicken.
Put the previously soaked adzuki beans in a pot and cover them with water. Let them boil for 40 minutes (or until tender) and don't forget to add 1 tsp baking soda in the water. This way the beans won't cause bloating and will get soft faster.
When ready, drain very well the adzuki beans. Put them in a large bowl and using a vertical mixer, mash them a little. Not too much. Whole azuki beans give the burgers a very nice texture.
Add chopped onion, parsley, grated carrot, salt, pepper, spices (or spices mix), egg/flax egg and chopped salad leaves. Blend them well together using a fork.
Now, the composition has to be sticky and easy to shape the patties. If it is too moist you can add some breadcrumbs or chickpea/rice/soy flour. Start with 2 tbsps and add more if needed.
Heat some oil in a non-stick frying pan. 1tbsp of oil is enough. Make the burger patties and put them on the pan to cook. Let them cook about 2 minutes on each side.
Serve with anything you like (tip: they're great with mustard! yum!) .