Lentils, Veggies and Mushroom Bake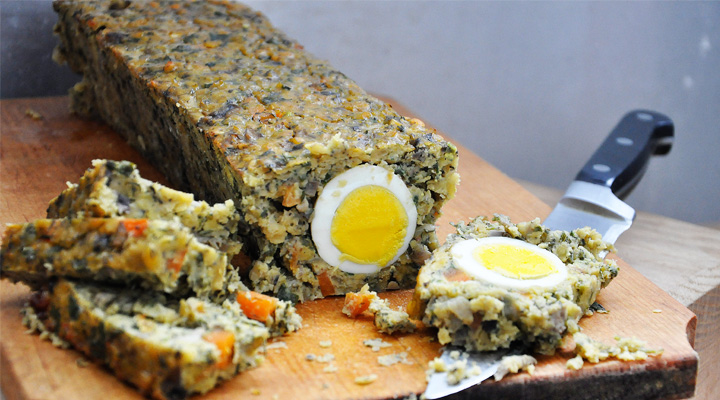 1 cup red lentils
1 cup mushrooms, chopped (I used champignons)
1 carrot, chopped
1 onion, chopped
2 eggs (for composition) + 3 more (optional – to place inside the veggie bake)
1 bunch of parsley
1 bunch of dill
1 bunch green onions
2 tsps thyme
sea salt and pepper, to taste
Boil the lentils for 15 minutes then strain them very well and place them in a large bowl.
Heat some olive oil in a large pan and saute the chopped onion, mushrooms, and carrot, for about 7-10 minutes. They don't have to be completely cooked. Place them over the lentils in the bowl.
Add 2 eggs, chopped parsley, green onions, dill, sea salt, pepper, and thyme. Start blending them all together.
Optional – Boil 3 eggs.
Place the composition in a previously greased form, any shape you want (preferably a taller one if you add the extra 3 eggs).
Add half of the composition, place the peeled, boiled eggs and then cover them with the other half.
Place in oven and cook at about 180ºC/356ºF for 30-40 minutes.
Let it cool a bit before removing it from the form.
If you wait until it cools down a bit it will come out of the form really nice. I was impatient as always and cut it immediately so it didn't stick together that well.
Recipe by
Gourmandelle | Vegetarian Blog
at https://gourmandelle.com/veggies-and-mushroom-bake-drob-vegetarian/