Beet Burgers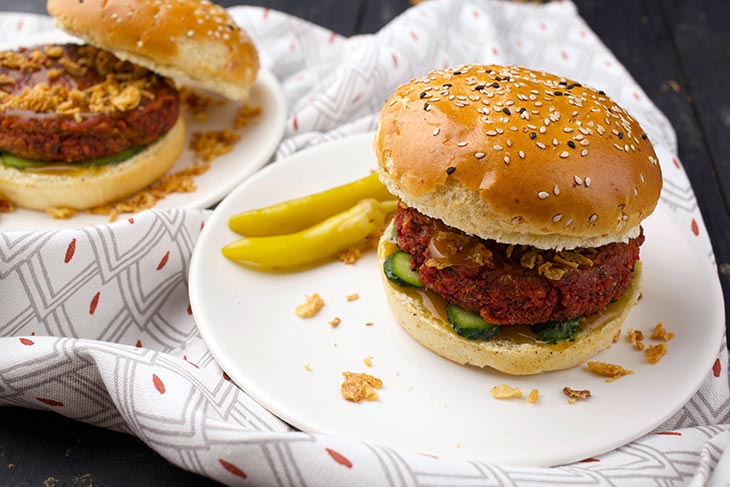 2 cups cooked brown rice
2 medium beetroot, peeled and cubed
1 cup pumpkin puree
1 medium onion, peeled and cubed
2 Tbsp fresh cilantro
1 garlic clove
1 Tbsp curry powder
1 tsp salt
½ tsp black pepper
½ cup panko breadcrumbs (use gluten-free if needed)
½ cup flour (use gluten-free if needed)
1 Tbsp psyllium husks
1 Tbsp olive oil
To assemble:
6 burger buns (use gluten-free if needed)
½ cup sweet chili sauce
1 can chili pickles
2 sliced cucumbers
1 cup fried onions crumble
Heat oven to 200 C.
Line a baking tray with baking paper.
Add all burger ingredients except for the olive oil to a food processor, pulse until well combined and incorporate.
Add extra breadcrumbs to get the desired consistency.
Form about 6 patties.
Heat a large skillet on medium with olive oil.
Fry the patties on each side for about 3 minutes or until golden brown.
Remove the patties to the prepared baking tray.
Bake for about 30 minutes. Set aside.
Meanwhile, prepare the buns.
Cut them in half to assemble.
Add a Tbsp sauce to the top of the first layer bun.
Top with sliced cucumbers, a beetroot pattie, sweet chili sauce, onions, and another bun half.
Serve with chili pickles on the side.
Calories:
375
Fat:
8g
Carbohydrates:
65g
Sugar:
17g
Fiber:
6g