Spicy Carrot Penne Pasta with Mustard and Parsnip Sauce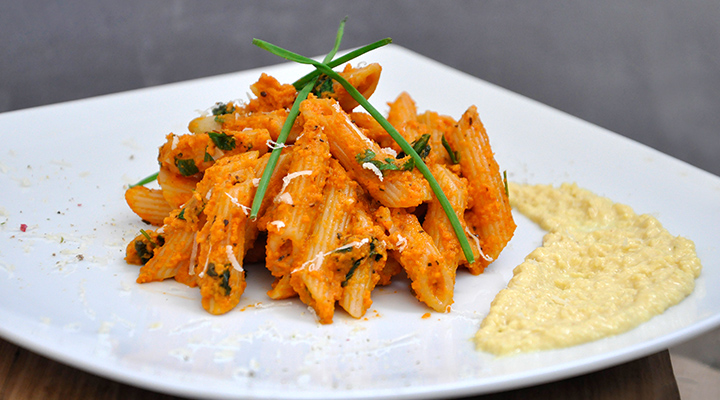 4 cups whole wheat penne pasta (or GF pasta)
4 carrots, sliced
4 parsnips, sliced
olive oil
salt and pepper, to taste
1 tsp dry oregano
2-3 garlic cloves, mashed
3 tsps good quality mustard
5 tsps tomato paste
fresh chopped basil
grated parmesan (optional)
Boil pasta for about 10 minutes.
Put sliced carrots in the food processor and blend until they turn into a paste.
Heat some olive oil in a medium pan. Add carrot paste, mashed garlic cloves, tomato paste, oregano, salt and pepper. Cook for about 10 minutes then remove from heat.
Mix with pasta and add fresh chopped basil and grated parmesan on top.
Put sliced parsnips in the food processor. Add mustard and blend until smooth.
Heat a little bit of olive oil in a small pan and add the parsnip sauce.
Heat it just for a couple of minutes.
That's it! Mix pasta with the carrot sauce and place the parsnip sauce aside.
Use smaller/younger parsnips in order to get a creamier sauce.
Recipe by
Gourmandelle | Vegetarian Blog
at https://gourmandelle.com/spicy-carrot-penne-pasta-with-mustard-and-parsnip-sauce-paste-cremoase-cu-morcovi-si-sos-de-pastarnac-si-mustar/