Spring Roasted Veggies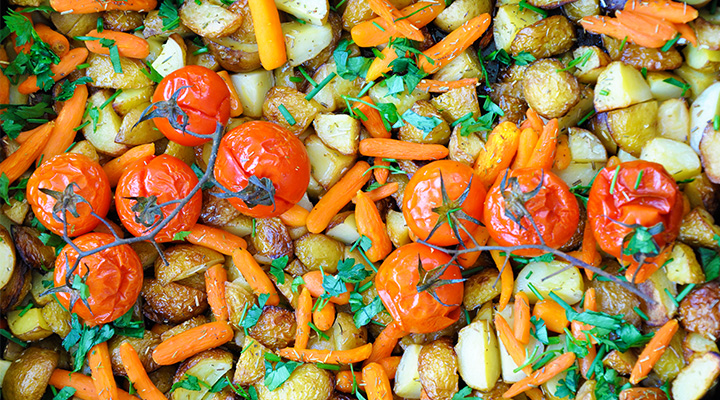 1,5 kg baby potatoes
2 cups frozen baby carrots
greens – parsley and dill
cherry tomatoes
salt and pepper, to taste
olive oil
1 tsp thyme
rosemary, fresh or dry, about 1 tsp if you use dry
Sauce (optional):
1 cup sour cream
half a bunch of parsley, chopped
1 tsp sweet paprika
Rinse the baby potatoes very well and cut them in 4 or 2, as needed.
Coat the oven tray in some olive oil.
Optional: This step is not really necessary! If you want some extra crunchiness you can fry the potatoes a little bit in some olive oil (10 minutes) and then put them in the tray,
Put the potatoes in the oven tray. Add baby carrots and cherry tomatoes.
Season with salt, pepper, rosemary and thyme.
Add more olive oil on top and place in oven at 200C for about 35 minutes.
When ready, add chopped herbs on top.
For the sauce:
Mix the sour cream with the chopped parsley and sweet paprika. Serve on top of the roasted veggies.