Whole Grain Stuffed Bread with Cheese and Herbs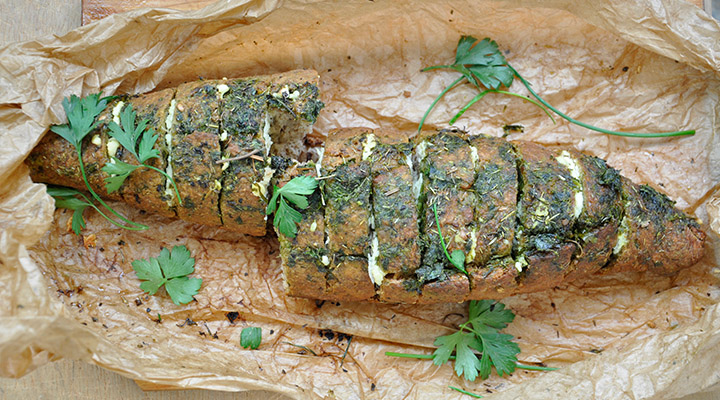 one whole grain bread/baguette
4-5 garlic cloves, mashed
half a bunch of parsley
1 tsp dry oregano
1 Tbsp olive oil
feta cheese, thin 0,5-1cm slices
Pre-heat the oven at 180C.
Take some parchment paper, enough to wrap the bread, and soak it in water. Crumble it and drain it. It just has to be wet.
Place the bread on the wet parchment paper.
Add the parsley, oregano, mashed garlic and olive oil in the blender and blend.
Partially slice the bread.
Cover the bread with the herbs and garlic paste. Also, add the composition between the slices.
Add 1 slice of cheese between each 2 slices of bread.
Wrap the bread and place in oven for 20 minutes.
After 20 minutes, partially unwrap it and leave it there for 5-7 more minutes
Serve this stuffed bread with cheese steamy hot!