Ricotta Mushroom Galette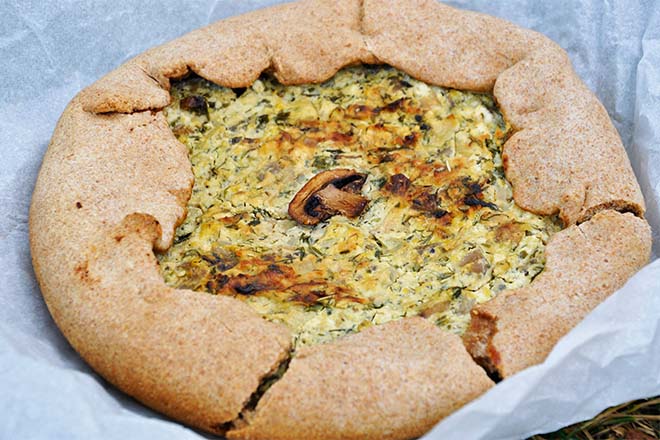 For the dough:
150g whole wheat flour
150g whole rye flour
80g cold butter
½ glass of ice cold water
sea salt
For the filling:
2 cups sliced button mushrooms
½ cup white wine
2 eggs, beaten
1 cup ricotta cheese
1 onion, chopped
4 Tbsps dill, chopped
2 tsps dry thyme
salt and pepper, to taste
Add all dough ingredients in your food processor and blend them very well. If the dough is sticky, add more flour. The dough is just right when it is easy to mold and has an elastic consistency. When done, put it in the fridge for half an hour.
Meanwhile, heat some olive oil in a large pan and saute the onion. Add mushrooms and white wine, and cover with a lid.
Cook for 10 minutes. Remove the lid and add the remaining ingredients: chopped dill, beaten eggs, ricotta cheese, thyme, salt, and pepper.
Cook for 2-3 more minutes and remove from heat.
Heat the oven at 200C/392F.
Press the dough into a flat round disk and place it on an oven tray covered with a baking sheet.
Add the filling right in the middle, leaving 1½ inches clear around the edges. Fold the edges towards the center.
Bake for 30-35 minutes.
Serve hot with fresh sour cream on top!