Roasted Eggplant and Red Bell Pepper Canned Spread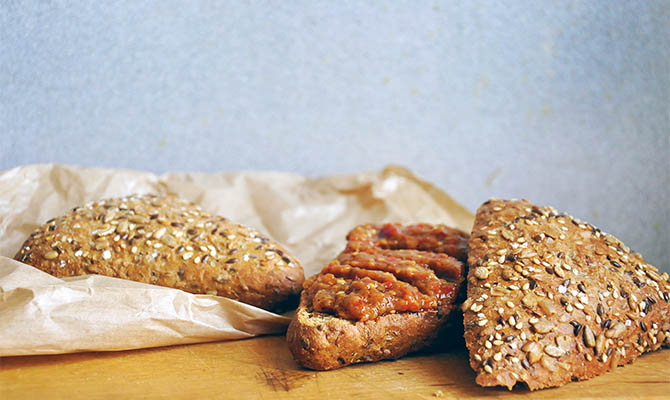 1,5 kg eggplants, small to medium
1 kg red bell peppers
0,5 kg onion
500ml tomato broth, homemade is best
250ml oil
2 bay leaves
1 tsp sea salt
1 tsp ground black pepper
Rinse the eggplants. Heat your grill pan. Grill the eggplants on each side and turn them over every 10 minutes or so. Grill them until they are covered with a black crust.
Peel the eggplants, cleaning off the black crust. Put them on a wooden platter and let them drain for at least half an hour. The liquid is bitter. The longer you drain them, the sweeter they'll be.
Mash the eggplants' pulp with a blunt, thick wooden knife or a ceramic one, on a wooden platter (This is the secret for a delicious eggplant salad! Do not use a metal knife because it will turn the eggplants black and it will also make them bitter). The process is pretty much the same as the one I used for making this delicious Eggplant Caviar recipe.
Grill the red bell peppers, just as you grilled the eggplants. When done, set aside and let them cool off a bit. Peel them too and remove the seeds.
Heat the oil in a large pot. Dice the onion and saute it for 8 minutes. Add salt right from the beginning, this way the salt won't get burned and it will become tender instead.
Put the red bell peppers in your food processor and mash them. Add them in the pot. Add pepper, bay leaves, tomato broth and mashed eggplants. Let them boil for about one hour, over low heat. Check every 15 minutes so it won't stick. Add 1-2 tbsps of sugar if you want it to be sweeter.
When ready, pour the resulting paste in sterilized jars, placed on a metal oven tray. Cover them with their lids and place in the preheated oven at 212F, for another hour. When done, just turn off the oven and let them in there to cool off slowly.