Puff Pastry Tart with Mushrooms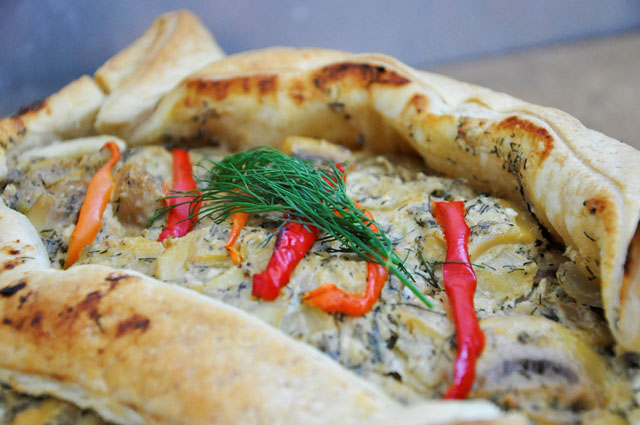 300g pastry
2 cups button mushrooms, sliced
1 medium onion, chopped
1 bunch of dill, chopped
½ glass of white wine
1-2 tsps dry thyme
2 Tbsps whole wheat flour
1 Tbsp olive oil or butter
salt and pepper, to taste
Preheat the oven at 392F/ 200C.
Put the oil/butter in a large pan, over medium heat. Add chopped onion, sliced mushrooms, thyme, wine, dill, salt, and pepper. Cover with a lid and let them cook for 10 minutes, over medium heat.
Remove the lid and sprinkle 2 Tbsps of whole wheat flour on top. Start mixing very well, until the sauce thickens.
Remove from heat and set aside.
Grease an oven tray with some oil. Place the pastry sheet on the tray. Put the mushroom composition in the middle. Fold the edges of the pastry sheet, over the mushroom composition.
Put the pastry tart with mushrooms in the oven, for half an hour.
Serve with sour cream sauce with fresh chopped herbs.