Creamy Cauliflower Risotto with Parmesan and Garlic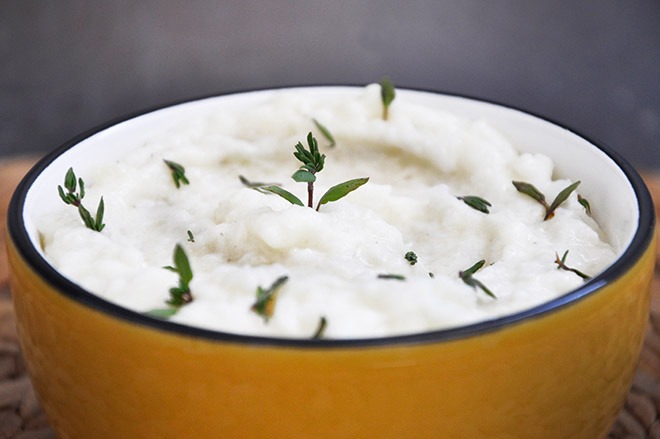 1 cup short-grain rice (I used white, but brown is better)
2 ½ cups vegetable broth or water
1 cup Parmesan cheese, grated
1 small cauliflower head
2 Tbsps butter
½ cup milk
4-5 garlic cloves, mashed
sea salt, to taste
fresh thyme
fresh chopped parsley (optional)
In a large saucepan, add butter and let it melt. Add brown rice and stir. Pour veggie broth/water. When it starts boiling, remove from heat and cover with a lid. Let the rice absorb all water.
Remove florets from the cauliflower head and rinse them. Put them in the steamer and steam for 25 minutes. if you don't have a steamer, you can either boil them (not recommended) or steam them by using a pot and a strainer. You can do this by filling a pot with water, bring it to a boil and put a strainer on top.
Put the florets in the strainer and cover it with a lid. Let the water boil for half an hour. The steam will rise and cook the cauliflower florets. It is best to also chop the florets into small pieces, this way they will cook faster.
Transfer cauliflower florets to a food processor or blender. Puree cauliflower and add milk, grated Parmesan cheese, salt and mashed garlic cloves. Blend until smooth.
Pour the cauliflower cream over the cooked rice and blend them together.
Optional – add fresh chopped parsley.
Serve with fresh thyme leaves on top.