Dark Chocolate and Pear Soufflé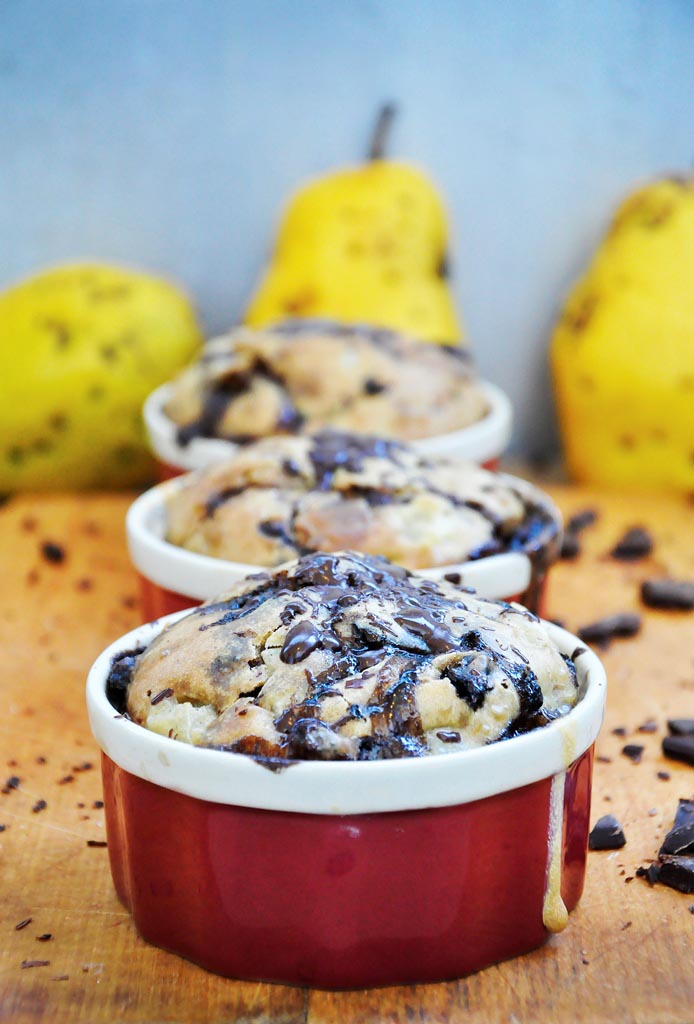 1 Tbsp unsalted butter
1 Tbsp all-purpose flour
½ cup milk, hot (120 ml)
½ tsp rum extract
2 Tbsps caster sugar
2 eggs, medium-sized, separated
a pinch of salt
2 pears, peeled and cut in small cubes
3-4 Tbsps dark chocolate chips
Brush the ramekins with butter, from the bottom upwards. Coat the ramekins with sugar and set aside.
Over medium heat, add butter in the sauce pan and melt it. Add in the flour and cook for 1-minute, stirring continuously.
Remove the pan from the heat and add hot milk. Stir until smooth. Back to medium heat, stir constantly until it comes to a boil. Remove from the heat.
Add in salt and rum extract and stir until well combined. Separate the egg white and egg yolks. Add in egg yolks. Stir to combine. Pour the sauce into a separate bowl.
Whisk egg whites. Add gradually sugar while slowly whisking. Keep whisking until firm and foamy. It takes about 20 minutes with hand and a couple of minutes with a mixer.
Combine the whisked egg whites with the sauce done earlier. Add the meringue (whisked egg whites) over the sauce. Add one-third at a time and stir to combine. Add chocolate chips and chopped pears. Combine together.
Spoon the mixture into ramekins. Don't fill them up completely.
Preheat the oven. Bake at 390 degrees F (200 C.) for 12 to 15 minutes or until well risen.