Creamy Carrot Soup with Ginger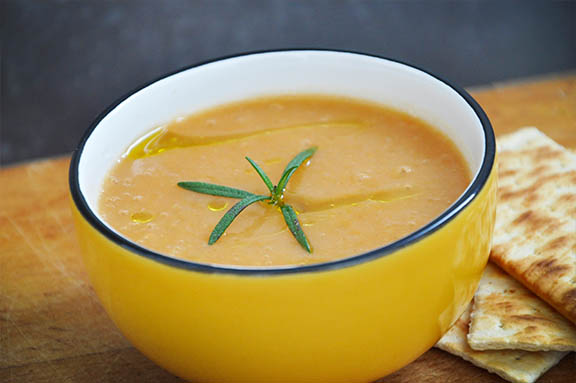 2 big potatoes, peeled and cubed
1 medium onion, peeled and cut in chunks
2 carrots, sliced
a thumb-size piece of ginger, peeled and grated
2 Tbsps extra-virgin olive oil
2 Tbsps lemon juice
sea salt, to taste
white pepper, to taste
yogurt (optional)
herbs, for garnish
water, just enough to cover all veggies
Add potatoes, onion and carrots, in a medium soup pot. Add water, just enough to cover the veggies and let them boil for 15-20 minutes.
Add grated ginger, salt and pepper. Stir well.
Remove from heat when the potatoes and carrots are tender. Check them with a fork.
Using a vertical blender, start blending the veggies.
Add olive oil and lemon juice.
Add more water, depending on how thick/thin you want the soup to be.
Garnish with yogurt (optional) and herbs.