Spring Watercress Salad with Balsamic Vinaigrette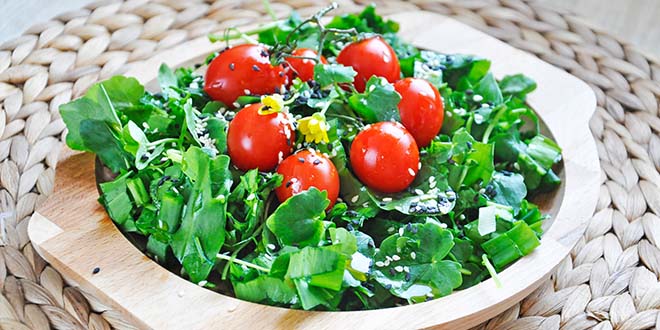 Serves:
2 generous servings
3 cups watercress, chopped
some cherry tomatoes, whole or halved
1 cup ramps/wild garlic leaves, chopped
½ cup scallions, chopped
2 Tbsps raw sesame seeds
Balsamic Vinaigrette:
6 Tbsps cold-pressed hemp oil (you can use extra-virgin olive oil if you don't have hemp oil)
2 Tbsps balsamic vinegar
sea salt and ground pepper, to taste
1 tsp honey (optional)
Make the balsamic vinaigrette. Add all ingredients together and mix well.
Rinse well and chop the greens and veggies. Mix them together. Serve with seeds on top.
Add balsamic vinaigrette only right before serving the watercress salad.