Root Vegetable Tart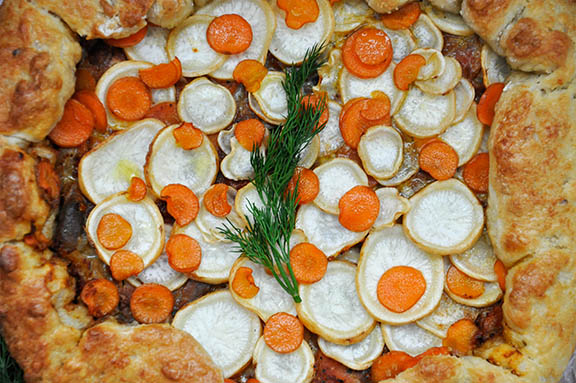 Crust:
500g wheat flour
250ml warm water
1 tsp dry yeast
½ tsp sea salt
bread crumbs (the secret ingredient for a perfect, crunchy crust!)
Filling:
250g button mushrooms, sliced
3 carrots, sliced
2 parsnips, sliced
2 onions, julienne cut
1 egg, beaten
2 Tbsps mustard
1 tsp dry oregano
½-1 tsp dry ginger powder
salt and pepper, to taste
oil
Crust:
Add flour, salt and dry yeast in the food processor. Set it on the lowest speed and slowly pour in warm water. It doesn't have to be mixed very well.
Take the dough out of the food processor and give it a ball shape.
Put it in a bowl and cover with a clean towel. Leave it at room temperature for 45-60 minutes, until it doubles its volume.
Sprinkle some flour onto your kitchen table. Spread the dough and give it a round shape. It has to be about 1cm thick.
Grease the pan with some oil. Sprinkle it with breadcrumbs. Put the dough in the pan. Add the filling. Pull the margins of the dough over the filling.
Cover the tart with the remaining carrot and parsnip slices.
Let it cook for 20 minutes at 200C.
Filling:
Heat some oil in a large pan. Saute chopped onion. Add sliced carrots and parsnips (save some slices to top the tart with). When nearly done, add sliced mushrooms, mustard, and spices.
Remove from heat.
Add beaten egg and mix well.
Add filling over the dough in the tart form, and proceed as mentioned above.