Sweet Potato Soup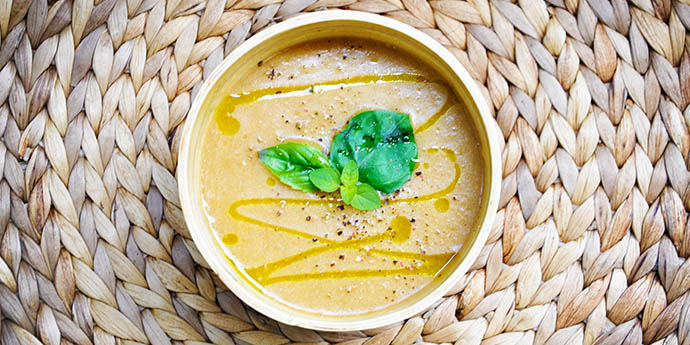 2 large sweet potatoes, cut in small cubes
1 onion, cut in four
3 carrots, cut in chunks
1 regular potato, cut in small cubes
a thumb-size piece of ginger grated
½ teaspoon ground cumin
¼ teaspoon crushed red pepper
salt and ground pepper, to taste
olive oil
water, just enough to cover the veggies
fresh chopped herbs (optional)
Put all veggies in a large pot.
Add water just enough to cover them. Be careful not to add too much water. You'll be able to add more later and create the perfect consistency and texture for your creamy soup.
Bring to a boil and add salt and pepper.
Let them boil until tender - around 20-25 minutes.
Add spices and grated ginger.
Using a vertical blender, start blending the veggies.
Add more water if needed, to create the perfect creamy texture.
Serve with gluten-free crackers, drizzle with olive oil and add some fresh chopped herbs on top.