The Ultimate Vegan Hangover Soup | Oyster Mushroom Soup with Pickles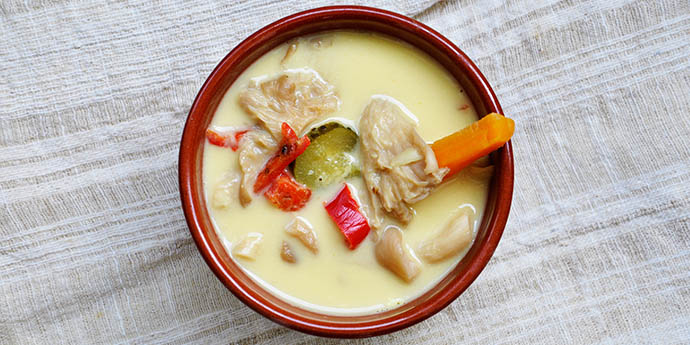 1 600-800g pickles jar
1 600-800g pickled red bell peppers
3 carrots
1 garlic head
sea salt, ground pepper and ground coriander, to taste
Sauce:
Option 1: 2 tsps potato or corn starch + 2 Tbsps mustard + ½ tsp curry powder + 3 Tbsps olive oil
Option 2: 3 Tbsps vegan mayo
Pour the vinegar from both pickle jars in a pot. Add 1 L of water.
Slice the carrots and the pleurotus mushrooms.
Let them boil for 15 minutes.
Add 5 sliced pickles and 5 sliced pickled red bell peppers.
Add 5-6 sliced garlic cloves.
Let them boil for another 10 minutes.
If you you choose the first sauce option: In a separate large bowl, add mustard, starch, olive oil and curry powder. Mix using a hand mixer.
Mash and add the rest of garlic cloves in the mustard "mayo".
If you choose the second version, add vegan mayo but keep in mind the instruction below,
Important! Don't add the "mayo" in the boiling water. Add about 1 cup of hot water from the pot at time into the "mayo" bowl. Pour slowly and mix continuously. Keep on adding hot water and mixing, until you've added about 800ml of water from the boiling pot into the "mayo"bowl. Now you can pour this back into the soup pot.
Remove from heat and serve.
Recipe by
Gourmandelle | Vegetarian Blog
at https://gourmandelle.com/vegan-hangover-soup-oyster-mushroom-soup/