Best Gluten-Free Vegan Pancakes Ever! Sugar-Free too!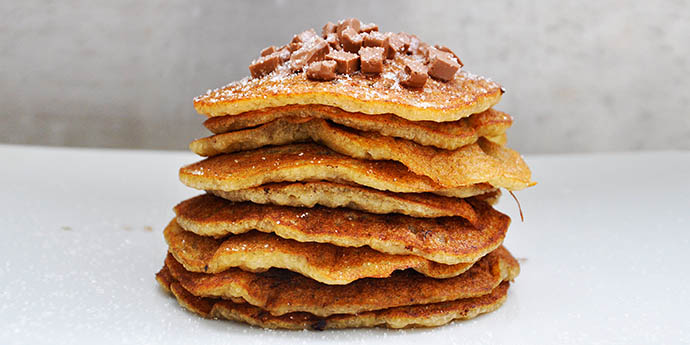 2 bananas, ripe
1 tsp baking powder
½ tsp baking soda
3 Tbsps stevia powder(or other healthy sweeteners)
1 tsp vanilla extract
1 tsp rum extract
1 Tbsp coconut oil, melted
oil, for frying
toppings of choice: chocolate, fruits, vanilla cream, syrups, jams.
Add bananas in the blender and puree until smooth.
Add gluten-free flour mix in a large bowl. Pour over the blended bananas.
Add baking powder, baking soda, stevia powder, coconut oil, vanilla and rum extracts.
Mix everything using a hand mixer. The composition has to have a thick yogurt consistency. If needed add a little bit of water or nut milk.
Use a non-stick pancakes pan.
Heat 1-2 Tbsps of oil in the pan. When heated, pour all oil in a small cup. You'll reuse this later. The pan only has to be greased. Depending on the size of the pan you're using, you can make 2-4 pancakes at a time.
Use a ladle half-filled with batter for each pancake. Pour it in the hot pan. The pancakes should have a max. 10cm diameter.
Let the pancake cook on one side until golden, then flip it on the other side.
When cooked, move the pancakes aside.
Repeat the process until you finish. Don't forget to grease the pan before each batch.
Serve with toppings of choice on top. Enjoy!