No Bake Citrus Cake with Berries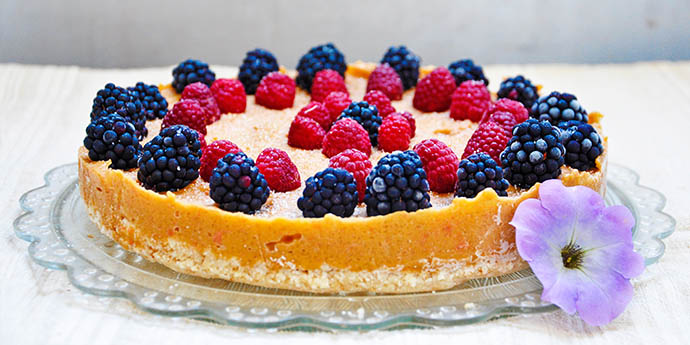 Crust:
125-150g gluten-free biscuits (I used Schar Maria simple biscuits, but if you're not GF you can use any other biscuits, as long as they're simple/with no filling.)
4-5 Tbsps coconut oil, melted
Cream:
2 large grapefruits, peeled
1 medium orange, peeled
3 large bananas ripe or 2 large avocados, ripe (Your choice. I used avocados, but if you want a low-fat cake, you can use bananas instead. The taste will be pretty much the same.)
4-5 Tbsps stevia powder - or any other healthy sweetener, to taste (you can use honey, agave, maple syrup etc.)
3 Tbsps psyllium husks
1 tsp vanilla extract
Berries:
1 cup raspberries and blueberries
Cover the bottom of a springform pan with plastic wrap.
Add biscuits in the food processor, along with 4-5 Tbsps of melted coconut/cocoa oil. Process until all biscuits are turned into breadcrumbs.
Put the crust mix into the pan and spread it evenly on the bottom. Don't worry if it still looks crumbly. The butter will solidify when refrigerated and the crust will be just perfect.
Peel grapefruits and orange. Remove the inside white/transparent peels too. You'll need the pulp only. The white parts are bitter.
Add citrus pulp in the food processor. Add bananas/avocados, healthy sweetener of choice, psyllium husks, and vanilla extract. Blend well until creamy.
Pour half the quantity of the cream into the pan. Spread evenly. Add ½ cup berries and cover with the other half.
Decorate with the remaining berries.
Put in the freezer for 1-2 hours, then move it to the fridge for another hour. Don't serve frozen!