Grilled Smoked Tofu Tomato Salad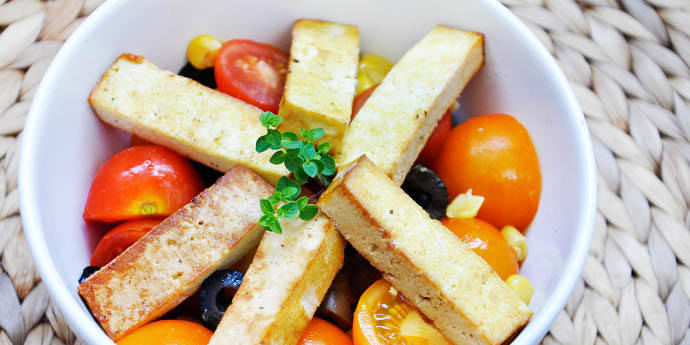 5 red cherry tomatoes
5 orange cherry tomatoes
4 Tbsps sweet corn
3 Tbsps sliced olives
80g smoked tofu, sliced
½ Tbsp extravirgin olive oil
sea salt and ground pepper, to taste
Heat olive oil in a large pan.
Cut tomatoes in half and put them in the heated pan.
Add salt and ground pepper.
Cover with a lid and let them cook for 2 minutes.
Remove from heat and put tomatoes in a bowl.
Slice smoked tofu and grill it in the pan for 1 minute on each side.
Add olives and sweet corn over the tomatoes in in the bowl. Top with sliced tofu and serve warm.