Baked Pasta Tart with Smoked Tofu and Mushrooms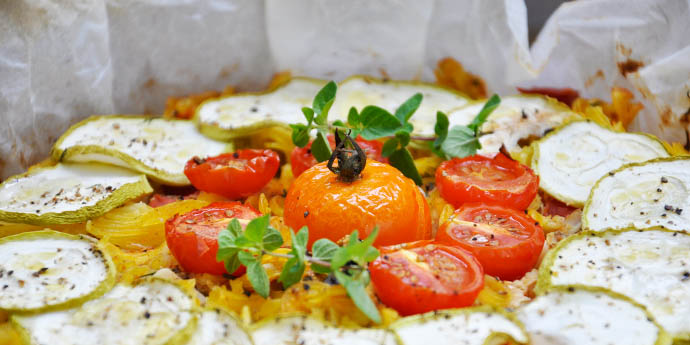 2 medium tomatoes, chopped
1 onion, chopped
1 large zucchini, thinly sliced (You can also use eggplant. The first version of this recipe was made using eggplant instead of zucchini.)
150g smoked tofu, mashed with a fork (Use smoked tofu only, regular tofu is bland.)
2 eggs, beaten
2 cups button mushrooms, sliced
some cherry tomatoes, for garnishing
2 tsps dry thyme
1 tsp oregano
sea salt and ground pepper, to taste
½ cup fresh dill, chopped
Add water in a large pot. Add ½ Tbsp salt.
Add pasta and sliced mushrooms. Boil for 10 minutes.
Drain pasta and mushrooms and move them into a large bowl.
Add all the other ingredients, except cherry tomatoes and zucchini slices. Mix well.
Use a cake tin with detachable walls/round yena bowl or simply just a pot. Cover it with parchment paper and grease it.
Cover the bottom with zucchini slices.
Add the composition from the bowl and spread it evenly.
Put some zucchini slices on top and garnish with cherry tomatoes.
Bake at 200C/392F for 30 minutes.