Sweet Potato Burgers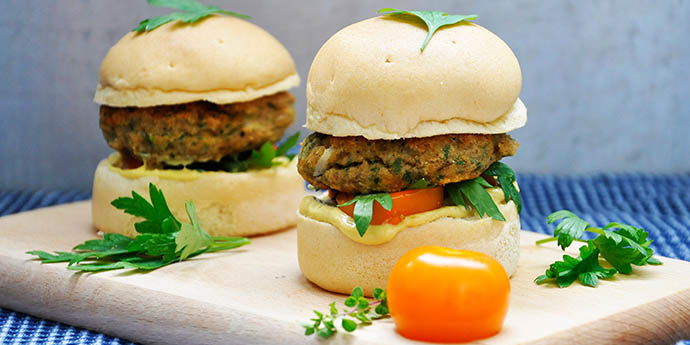 Mix the ground flax and water in a small bowl and set aside for 5 minutes to thicken.
Add lentils in a pot and cover them with water. From the moment they start boiling, let them boil for about 15 minutes and then remove from heat.
Strain the lentils very well and put them in a large bowl. Start mashing them a little, using a fork, or use your food processor to turn them into a paste.
Add egg/flax egg, inactive yeast flakes, chopped onion, parsley, grated sweet potato, breadcrumbs/flour, sea salt and pepper into the bowl.
Using a fork, or your hands, start mixing the composition. It has to be sticky and easy to form. If it's not it means that you didn't strain the lentils very well and the composition is too wet. No problem, just add more breadcrumbs/flour until it has a sticky dough-like consistency.
Spray a non-stick pan with some oil. Not too much. Put each patty on the frying pan and let it fry about 2 minutes on each side.
Make the burgers with any other ingredients you want, such as GF buns, tomato slices, salad leaves and more!