Beetballs with Garlic-Basil Tomato Sauce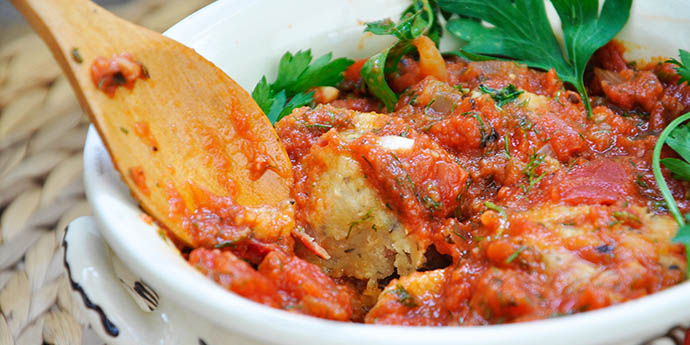 Beetballs:
1 cup red lentils
1 small beetroot, grated
1 medium onion, diced
4 Tbsps psyllium husks (or 2 eggs, beaten)
2 tsps dry thyme
½ tsp ground coriander
½ tsp smoked paprika
1 tsp sweet paprika
2 tsps dry garlic powder
sea salt and ground pepper, to taste
Sauce:
1 400g can chopped tomatoes
4 Tbsps tomato paste
5 garlic cloves, crushed and sliced
½ cup fresh dill, chopped
1 medium onion, diced
2 tsps dry basil
sea salt and ground pepper, to taste
some olive oil
water, as needed
Boil red lentils for 15 minutes.
Drain lentils and add them into the food processor and blend until smooth. Do not add any water!
Move lentils paste into a large bowl. Add all the other beetballs ingredients and mix. Let the composition sit for 5 minutes.
Now the composition should be sticky enough to shape the beetballs. Shape the beetballs and set them aside.
You can either steam the beetballs (if you have a steamer) or "steam / bake" them in the oven.
Using a steamer:
Place the beetballs on the steamers plate. Steam them for 15-20 minutes.
Using an oven:
Add a small pot filled with water into the preheated oven.
Put beetballs on an oven tray covered with baking sheet.
Let them steam/bake in the oven for 20 minutes at 200C.
Heat a little bit of olive oil in a large pan.
Add diced onion and garlic. Saute for 1 minute.
Add the rest of the ingredients, except fresh dill.
Saute for 5 minutes and add dill.
Remove the beetballs from the steamer/oven and place them in the pot. Cover them in sauce.
Remove from heat and serve!
If you get too many beetballs, you can keep some in your fridge and make some more sauce later.
Recipe by
Gourmandelle | Vegetarian Blog
at https://gourmandelle.com/beetballs-tomato-sauce/