Gluten-Free Muffins with Banana Chocolate Cream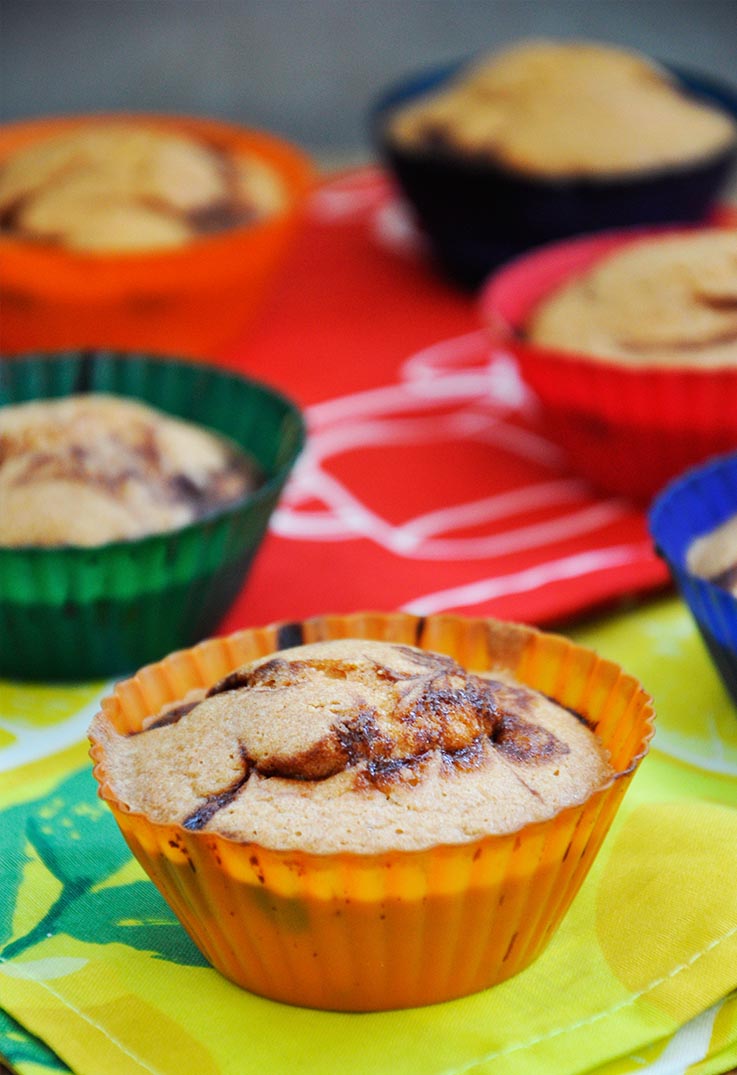 Batter:
4 eggs
10g baking powder
½ cup grapeseed/sunflower oil
4 Tbsps stevia powder (or 5 Tbsps sugar)
1 tsp vanilla extract
1 tsp rum extract
Cream filling:
2 very ripe bananas
2 Tbsps carob powder
2 Tbsps stevia powder (or the same amount of sugar - the filling has to be a bit sweeter, because the batter is semi-sweet)
Separate egg whites from egg yolks.
Whisk egg whites in a large bowl. (you can use a hand mixer or a food processor too)
Add stevia powder, vanilla and rum extract. Mix.
Combine gluten-free flour with baking powder.
Add beaten egg yolks and combine together with the foamy egg whites using a spatula.
Start adding flour in the bowl, little by little, while continuously incorporating using a spatula.
When all flour is incorporated, add oil.
Mix easily until well blended together.
Grease a 12-muffins tray with some oil and powder it with flour, or use paper muffin cups and skip the greasing part.
Add 1 Tbsp of batter in each muffin cup.
Add bananas, carob powder and stevia powder in the blender. Blend until smooth.
Add about 1 Tbsp of filling in each cup.
Cover with another 1 Tbsp of batter.
If bits of chocolate cream are still visible, you can use a toothpick and create cute swirls on top.
Bake in the preheated oven at 180C for 25min. Check with a toothpick if ready.
Very important! I know that stevia powder is supposed to be 300 times sweeter than sugar...well the brand that I'm using is not. I found out that stevia powder is sweeter than sugar when sweetening liquids, but when baking though, it has almost the same sweetness as sugar. Maybe it has something to do with the temperature, I don't know. So, the quantities mentioned are almost the same with the quantities I use for regular sugar.
Recipe by
Gourmandelle | Vegetarian Blog
at https://gourmandelle.com/gluten-free-muffins-banana-chocolate-cream/