Gluten-Free Savory Muffins with Mushrooms and Thyme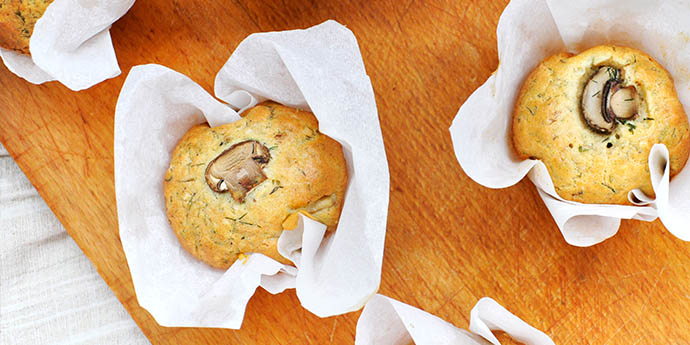 Heat ½ Tbsp olive oil in a small pan.
Add chopped onion and mushrooms, thyme, dill, salt and pepper. Saute for 5 minutes.
Cover with a lid and remove from heat.
Separate egg whites from egg yolks.
Whisk egg whites in a large bowl. (you can use a hand mixer or a food processor)
Add salt and thyme. Mix.
Combine gluten-free flour with baking powder.
Add beaten egg yolks and slowly combine together with the foamy egg whites using a spatula.
Start adding flour in the bowl, little by little, while continuously incorporating using a spatula.
When all flour is incorporated, add oil and sauteed mushrooms.
Mix easily until well blended together.
Put the muffin cups in the 12-muffins pan.
Add batter in each muffin cup - about 2 Tbsps.
Add 1 mushroom slice on each muffin.
Bake in the preheated oven at 180C for 25min. Check with a toothpick if ready.