Gluten-Free Brownies | Guilt-Free & Fail-Proof Recipe!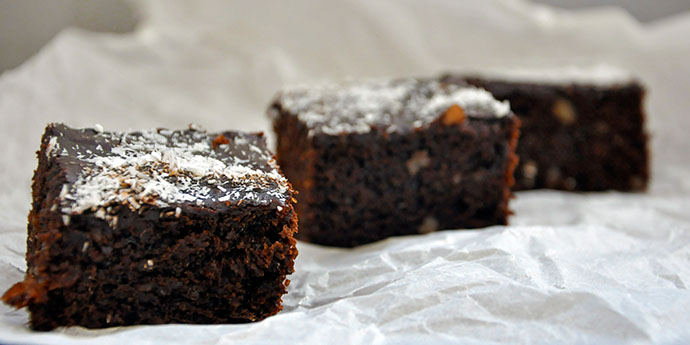 4 Tbsps stevia powder or 5 Tbsps brown sugar (or other healthy sweeteners)
100g walnuts, chopped
4 Tbsps carob powder or cocoa
3 Tbsps jam of choice (I used plum jam)
200ml effervescent water
50ml grapeseed oil
a pinch of sea salt
7g baking powder
1 tsp rum extract
Topping:
100g dark chocolate
coconut flakes
Put all ingredients, except the ones for the topping and the walnuts, in your food processor and mix well. Add chopped walnuts and pulse once or twice.
Grease a Jena bowl (mine was approx. 35x15cm). Add the composition and spread it evenly.
Preheat oven at 180C/375F. Let the brownies bake for 45 minutes.
Five minutes before the brownies are ready, melt the chocolate.
Take the brownies out of the oven and pour melted chocolate on top.
Let them cool before serving and sprinkle them with coconut flakes.