Vegan Pound Cake with Cranberries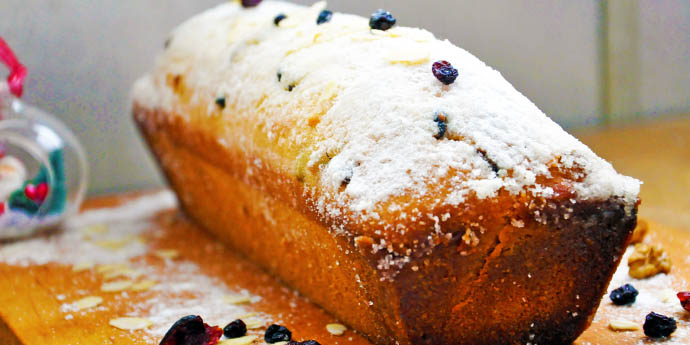 10g baking powder
½ tsp [url:2]baking soda[/url]
1 cup soy yogurt (I used vanilla flavored yogurt by Alpro)
1 cup soy milk
⅔ cup sugar
2 tsps vanilla extract
10 drops lemon essential oil
10 drops orange essential oil
6 Tbsps dry cranberries
6 Tbsps raisins
4 Tbsps oil + a little bit more for greasing the pan
Coating:
4 Tbsps melted coconut oil
4 Tbsps powdered sugar
Preheat the oven to 350 degrees F.
Add all ingredients, except cranberries and raisins, in the food processor. Blend until smooth.
Add dry cranberries and raisins and mix with a spoon.The batter will be thick.
Line a pound cake form with some parchment paper. Grease it.
Pour the composition in it.
Bake at 350 degrees F for ~40 minutes or until a toothpick from near the center comes out clean.
Let it cool before removing it from the pan.
Mix powdered sugar with coconut oil.
Pour on top of the cake.