Easy No Knead Gluten-Free Rustic Bread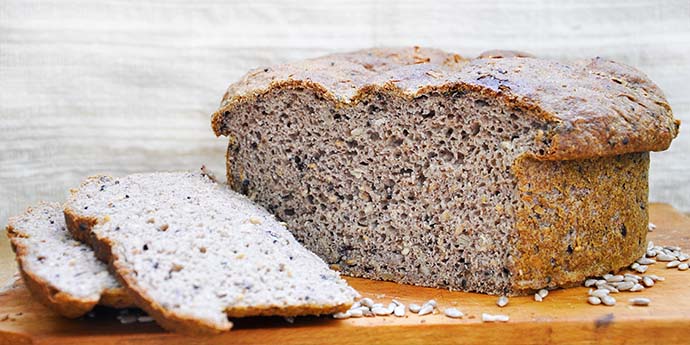 500 ml warm water
10g dry yeast
4 Tbsps olive oil
1 tsp sea salt
½ Tbsp sugar
a handful of raw sunflower seeds, lightly toasted in a pan
2 Tbsps black cumin
2 Tbsps flax seeds
Put flour in a large bowl and add salt.
In a separate bowl, add warm water, dry yeast, and sugar. Mix well and let it aside in a warm place for 10 minutes.
Pour de liquid over the flour in the bowl and start mixing using a wooden spoon. You can also use a food processor if you have a dough program on it.
Add oil and seeds. Mix well.
The dough will be extra-sticky. This is perfectly normal.
Start your oven on the lowest temperature and leave the door slightly open.
Cover the bowl with the dough using some plastic foil. Place the bowl on a stool, near the oven. Let it rise for about an hour.
I used a round cake form with detachable walls, with approx. 30cm in diameter. I covered it with some parchment paper, which I also greased with some oil.
Move the dough in the form. Grease the top with some oil and place it in the oven at 180C/375F.
Bake the bread for 50-60 minutes.