Best Creamy Polenta Recipe + Tofu-Pepper Sauté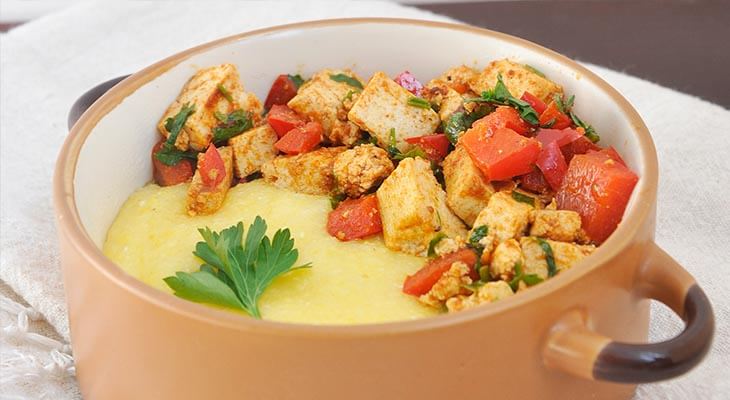 Creamy polenta:
1 cup (~170g) cornmeal
2 cups water
100ml coconut milk
3 Tbsps nutritional yeast flakes
sea salt, to taste
Tofu-Pepper Saute:
300g tofu
2 red bell peppers, chopped
1 onion, chopped
chopped parsley
1 tsp smoked paprika
1 Tbsp olive oil
¼ tsp ground pepper
Creamy polenta:
Pour water in a medium pot. Bring it to a boil. Add salt.
Slowly add cornmeal, while continuously stirring.
Add coconut milk and nutritional yeast flakes.
Stir continuously or else it will easily burn.
Cook it for 10 minutes, then remove from heat.
Tofu-Pepper Saute:
Chop tofu in small cubes.
Heat oil in a medium saucepan.
Add chopped onion and saute for 2 minutes.
Add tofu and chopped peppers.
Add spices.
Saute for 5 minutes.
Add chopped parsley.
Serve it over creamy polenta.