I am continuously working on improving the Gourmandelle Meal Planner app for you! The feedback I received from the dozens of people who've already tried it has been extremely helpful so I decided to add some new features that were inspired by their experience with the meal planner so far.
In case you are not familiar with my meal planner, here are some of its key features:
Get a 100% personalized meal plan with as little as $12/month*. If you have an allergy or food intolerance, don't worry! You can still enjoy awesome meals each day! You can also choose from 8 popular diet types and even combine them (if compatible)! The meal plan will even include your favorite foods and will eliminate all the ingredients you don't like! You can also edit, move, and change recipes.
Nutritional Info. Each recipe comes with nutritional info, so you can easily count calories, proteins, carbs or fats.
Ready to print and mobile-friendly. Get printable meal plan and grocery lists! You can also access your dashboard from your tablet, smartphone, or any other device.
UNLIMITED Email Support 24/7. I'm here for you! This is NOT another impersonal meal planning service. If you have any questions or if I can help you with anything you struggle with, I am here FOR YOU! I will help you on your journey to a healthy lifestyle in every way I can!
Read more on the Custom Meal Plans page.  *Yearly plan.
So, what's new?
VIRTUAL TOUR
I wanted to make it extremely easy for you to get used to how I organized the web app. So, I decided to add a quick virtual tour which guides you through all the features the meal planner app has to offer. The virtual tour will be instantly launched when you first log in to your dashboard. You can also manually launch it when you click on the "Take the tour" button.
---
It's time to stop worrying about what you're going to eat! I created the meal planner app to help you! Get your personalized meal plan with delicious, healthy, and budget-friendly recipes! GET YOUR MEAL PLAN!
---

100+ New Recipes + Meal Plan Edit Features
I added a bunch of new recipes to the database. Plus, I tweaked a little bit how the meal plan looks. The Change button no longer generates a random recipe, you are actually able to select from a list of 2-4 recipes and replace the recipe you don't like with a new one that sounds good to you.
The Grocery List is improved! The quantities are better generated and you can easily switch from Metric to Imperial measurements. Also, you can choose to view and print a weekly grocery list.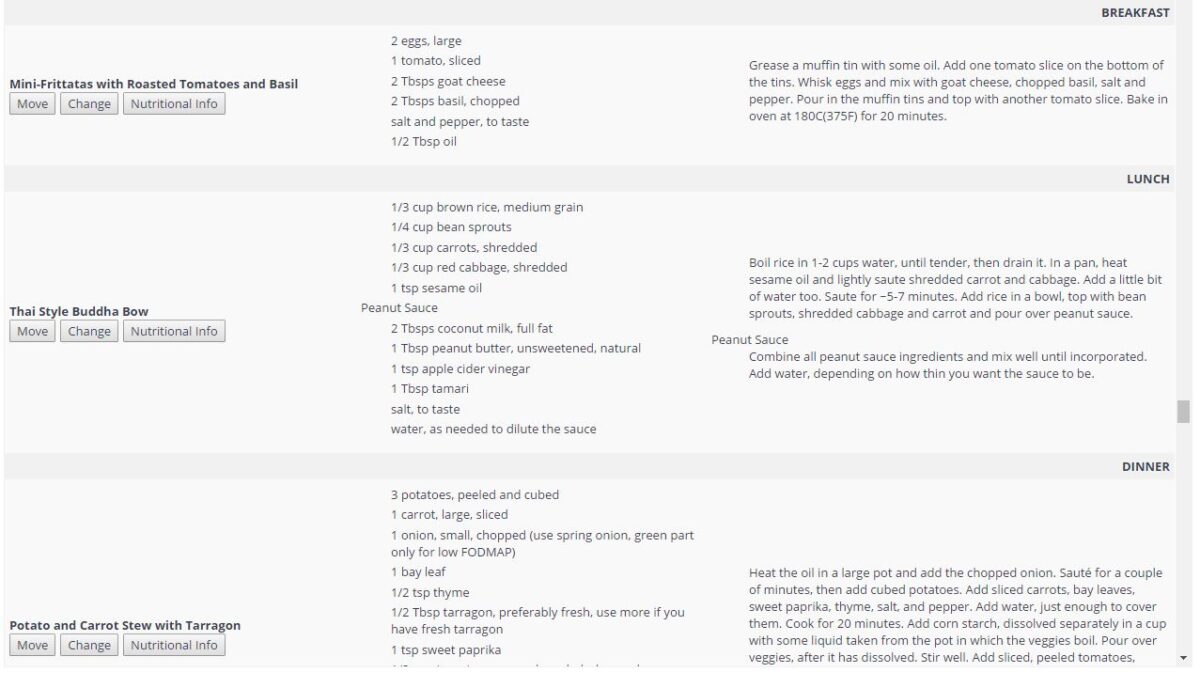 Get your discount!
To celebrate my first meal planner update, I am offering 20 discount codes to the first 20 people who buy a meal plan. Use the code gmpupdate20 and get 10% off your order! These codes are available only by the end of this week (promotion ends this Sunday!). Get your custom meal plan here.