This is a 100% honest Optimum Blender 9200 review with video unboxing as well! If you want to buy a professional blender, then you should definitely take a look at the review below.
Big news! I'm super-excited to announce that I recently became Brand Ambassador for Froothie / Optimum Blenders! 😀
I was busy this week testing my new Optimum Blender with all kinds of recipes. So far I've made smoothies, frozen milkshakes, raw ice creams, peanut butter and even tahini!
I also tried to make some video recipes, but unfortunately I found out the hard way that my Nikon D90 camera has very poor video qualities. Oh well, I filmed everything with my tablet, so the quality may not be the greatest, but I hopy you'll like them anyway! 🙂 I'm thinking about buying a good video camera and start making video recipes as well. If you have any suggestions, please let me know! 🙂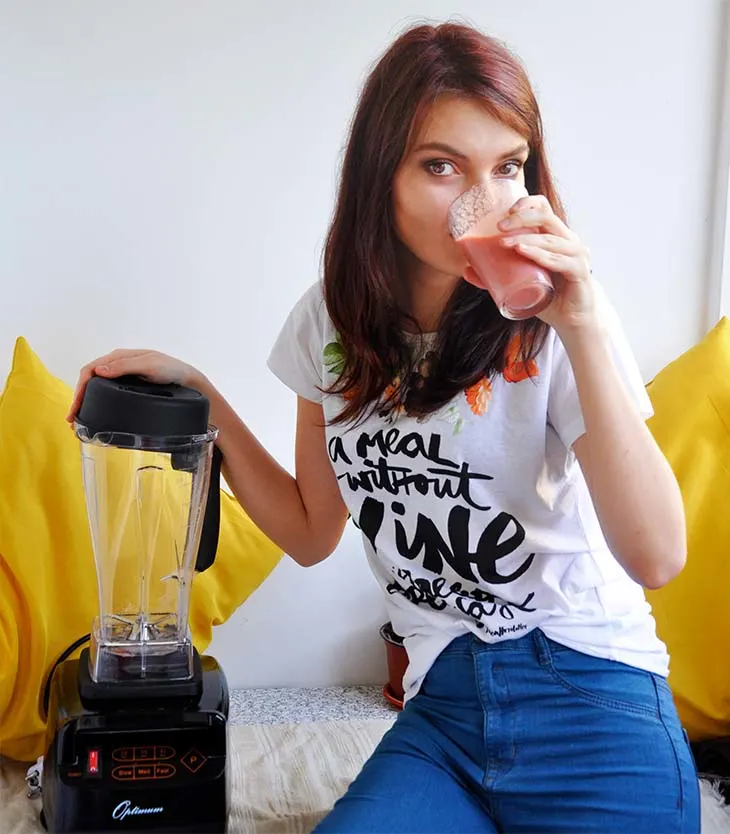 Anyway, let's get back to my Optimum Blender 9200 review here. I am so happy I finally have a professional blender! I've been using a very old blender for a very long time and I wasn't able to make smooth creams, nut butters or raw ice creams with it. Now I can! As you can imagine, I've been testing this with all kinds of recipes, such as nut butters, raw ice creams, raw desserts! It worked very well with all of them.
I cannot compare it with another professional blender, such as Vitamix, because I never used one, but I've heard that Optimum is Vitamix's no.1 competitor! I can tell you all the features that this professional blender has, and you can decide if it will be perfect for you too!
Optimum Blender 9200 Review & Unboxing Video
OPTIMUM Blender 9200 Review | Description
This blender is perfect for making smoothies, soups, ice creams, sauces, dips, spreads and all kinds of raw goodies. It comes with a standard 5-Year Warranty, and because it is a commercial-grade blender it will last you many years without any issues.
The Optimum blender has three different speed variables which are the 20, 30 and 45 seconds. You can also set the power to low, medium and high, depending on what you want to make.
The Optimum and Vitamix blenders are rated Australia's top 2 high-speed blenders by Choice Australia, and a great comparison with videos available here.
OPTIMUM Blender 9200 Review | Technical Details
[column type="1/2″]
Power:
Speed:
Noise:
Grade:
Blades:
Blade quality:
Jug applications:
BPA Free
Warranty:
[/column] [column type="1/2″ last="true"]
2,238 Watts
44,000 rpm
80dB
Domestic & Commercial
6 Blade Assembly
Stainless Steel
One Jug Wet/Dry
(BPA Free Optional)
10 YEARS (OPTIONAL)
[/column]
If you want to compare it with Vitamix you should know that Vitamix 5200 has 1,492 Watts, 37,000 rpm, 110dB, 4 Blade Assembly, Domestic Grade, Separate Wet/Dry (BPA Free) and a 7 years warranty. Plus, Optimum Blenders are more affordable! So? I think Optimum 9200 wins! 🙂
OPTIMUM Blender 9200 Review | Personal Thoughts
Loved the fact that it is EXTREMELY easy to use! Just a few buttons – click and go! This is a very important feature for me. I really dislike kitchen appliances with 100 functions, lots of useless features, huge How to Use Manuals and so on.
Great delivery service! First of all, the blender arrived at my door and not at my local post office. This is a MAJOR PLUS! Going to the post office is horrible and I would have wasted a lot of time there.
No more blender jug fitting problems! As you can see from the video above, you just place the jug over the blender's base, and that's it! No clicking and fitting. This was a big surprise for me and I love it!
High power! Oh Yeah! This is a really powerful blender. You can make almost anything with it! Crushing ice? No problem! 🙂
Not that noisy. Even though it's really powerful, it doesn't make too much noise.
Affordable! Comparing to Vitamix or Thermomix which cost a small fortune, Optimum Blenders are quite affordable!
To conclude, I am very satisfied by my new Optimum Blender 9200. I would highly recommend it. If you're interested in buying an Optimum Blender visit the Froothie websites (.com/.uk/.eu – depending on your location). For European orders, visit froothie.eu or buy it from Amazon, here.