Need some small kitchen ideas? Here's how to organize your kitchen efficiently, plus my top 5 tips on how to make the most out of the limited kitchen space.
The kitchen is the place where I spend most of the time, firstly because I love to cook (and eat!), and secondly because I'm also a food blogger! So for me, having an organized kitchen is crucial, because I want the time I spend cooking to always be a pleasure, not a chore!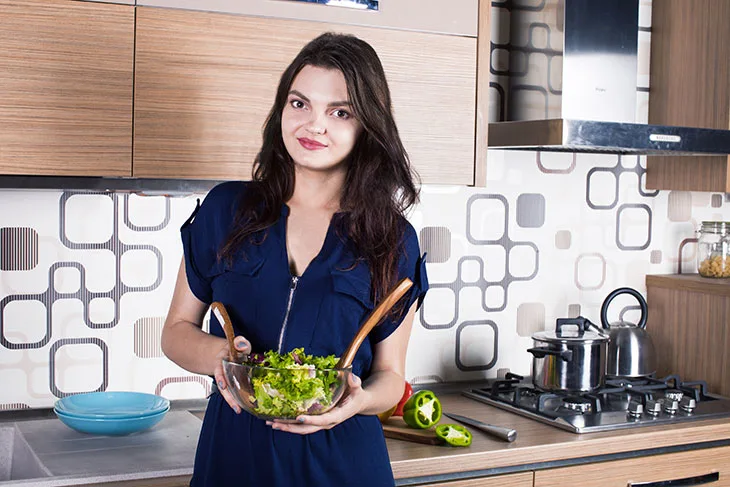 Although I dream of having a huge, super-spacious kitchen, this is not quite possible when you live in an apartment block. However, by applying a few tips and tricks and choosing the right kitchen furniture, a small kitchen can be turned into a really nice place to cook and spend time.
I've cooked in small kitchens all my life, so I have some experience on this matter. 🙂
I hope the tips below will help you make the most of your limited kitchen space and organize it in such a way that the time spent in the kitchen becomes a pleasure!
P.S. All photos were taken in the Lem's store in Mega Mall.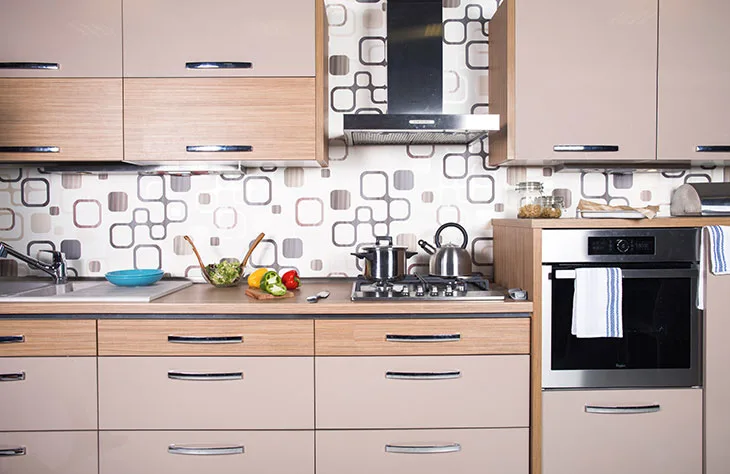 Small Kitchen Ideas | 5 Tips for Organizing Your Kitchen
1. Maximize the surface of the shelves by using additional metallic poles and use the inner surface of the cabinet doors to hang the kitchen utensils.
2. Store foods in labeled containers of the same type (square or round jars, boxes or bottles). Thus, pasta, flour, cereals, and coffee can be easily found, if they are organized and well labeled.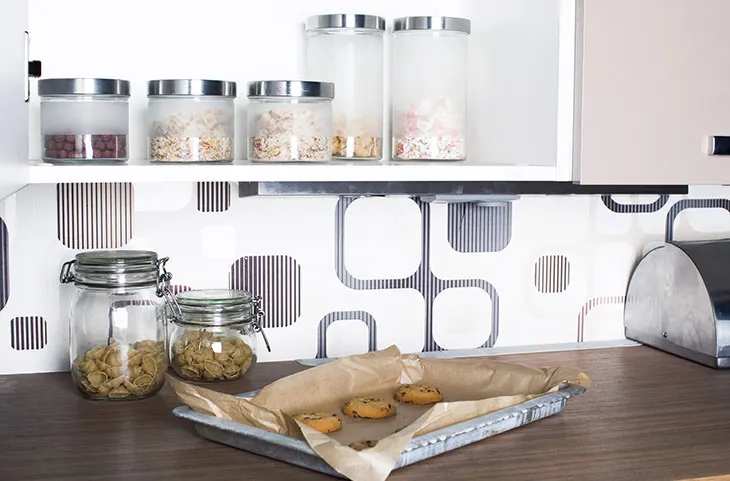 3. For spices use a rotating display stand, which you can put in a cupboard or leave it on the worktop. Using a rotating spice holder, you gain space and you can easily get the containers stored behind. Be careful! Do not store the spices in the cabinet above the cooker as they will lose their flavor!
4. Choose a hanging kitchen cabinet that is equipped with a dish hanging rack and positioned just above the sink.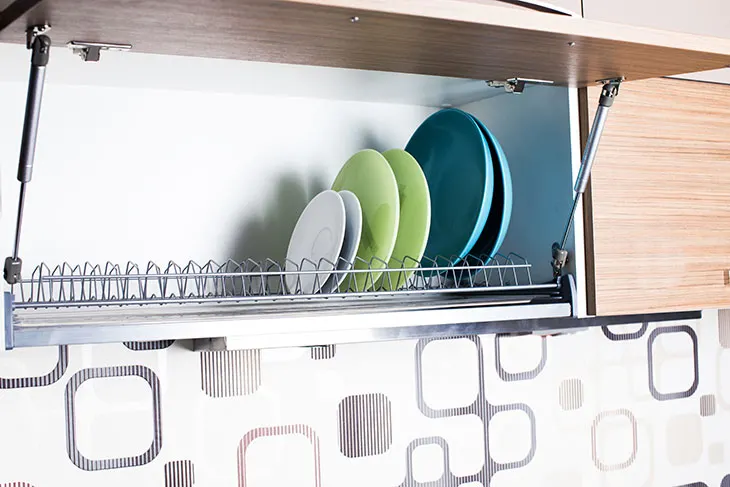 5. Use drawers with cutlery dividers.
These are just a few basic tips for having a better-organized kitchen. Also, having the right kitchen furniture helps! Want to know what to look for when buying the kitchen furniture? Modular kitchens are the perfect solution for small spaces, maximizing the possibilities of organizing the kitchen and offering an intelligent storage solution.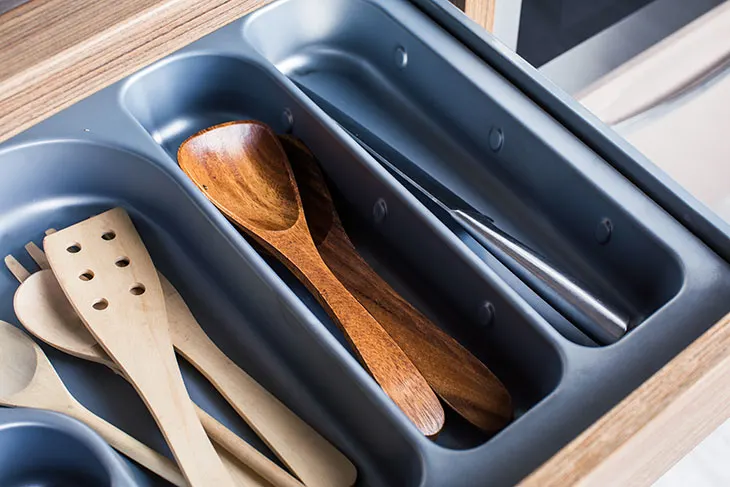 Small Kitchen Ideas | What are the advantages of using a modular kitchen?
1. The main advantage of a modular kitchen is that you can personalize your kitchen depending on the shape of your kitchen. Therefore, the structure of the kitchen can be easily configured to obtain a functional ensemble.
2. Provides more storage space.
3. They have a minimalist design, which gives an elegant touch to the kitchen.
4. Ensures a comfortable workspace, due to the fact that the storage space is well partitioned and offers easy access to electrical appliances.
5. Assembly is quick due to prefabricated modules and, if necessary, individual kitchen components can be replaced, making potential repair work easier.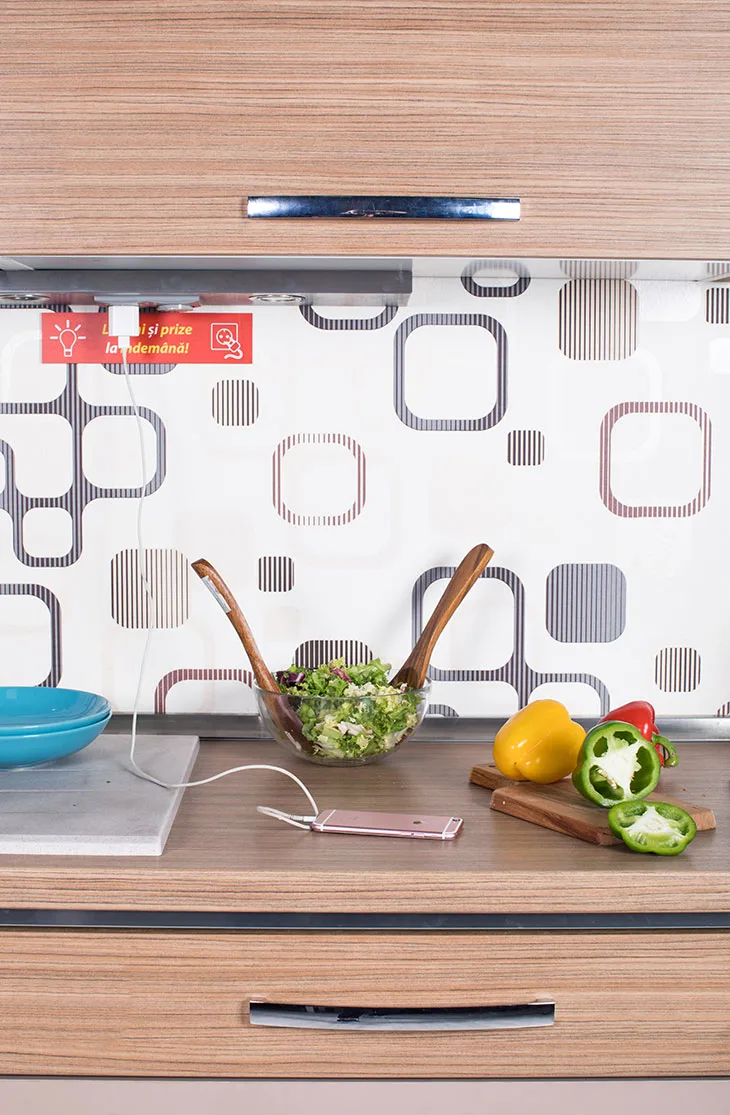 6. Can be cleaned and maintained with minimal effort.
7. They are made of high-quality water-resistant materials.
8. The kitchen can be equipped with built-in appliances such as a hob, oven, hood or dishwasher, which fit easily into the modular assembly.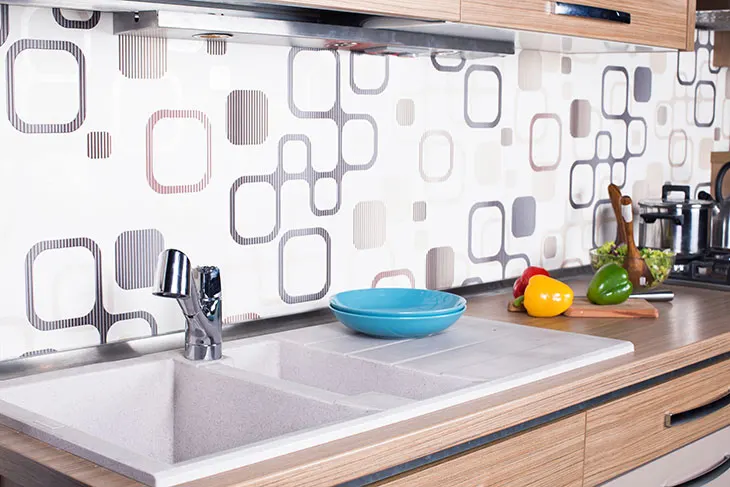 What about kitchen furniture accessories?
Most modular kitchen options come with a series of accessories you can opt for. I mentioned a couple of useful ones below.
Kitchen countertop that is made of heat-resistant melamine chipboard
Tableware Stand – The cutlery drawer can be fitted with tableware that is absolutely necessary to keep them in order. This tableware is adapted to the size of the drawer.
Wall shelves
Dishwasher and dish hanging rack – built into the cabinet (module).
Double or triple socket
LED light systems for drawers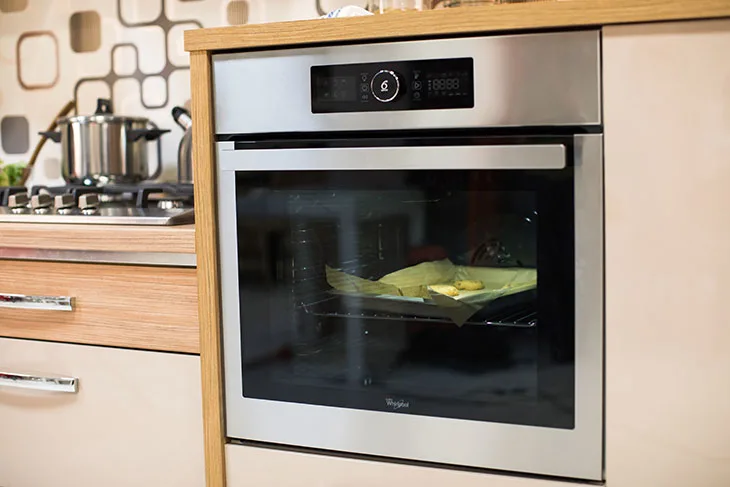 Small Kitchen DIY Ideas + More tips for an organized kitchen
Here are some really creative DIY projects and tips for optimizing the limited space of small kitchens. Hope you'll like these clever small kitchen ideas!