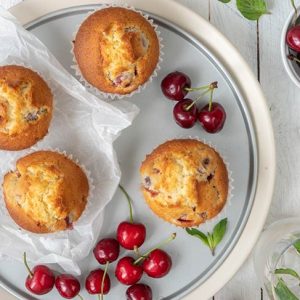 Vegan Cherry Muffins
Easy, simple, moist, sweet, refreshing - these vegan cherry muffins will literally tick all the boxes! Not to mention they're very healthy too, so you won't feel bad for indulging in this amazing dessert!
In a bowl, mix the flour, sugar, baking powder, and lemon zest.

Add the oil, vanilla, and soy milk, then mix until smooth.

Add the cherries and combine them.

Pour the mixture into the tin, in each muffin liner.

Bake for 25 minutes.

Test with a toothpick. Insert it in the middle of a muffin and if it comes out clean, they're ready. Otherwise, let them bake for a couple more minutes.

Let them cool in the tin for 10 minutes, then remove and transfer the muffins on a rack to cool.