Easy, simple, moist, sweet, refreshing – these vegan cherry muffins will literally tick all the boxes! Not to mention they're very healthy too, so you won't feel bad for indulging in this amazing dessert!
If you've been following me around for a while, then you're surely familiar with my love for baking, sweets, and cherries. These things fall in the category of "can't live without". Easily. 🙂
I'm a sweet tooth kind of person. I'd eat sweets all day if it were for me. Now that I'm a grown-up, I know it's not good for my body to do that, so I respect this. But I could never quit eating sweets once and for all – this would simply not work for me.
I love desserts too much to ever be able to pull this off. So I chose to have sweets, but in moderation. Everything in moderation, guys! 🙂 Moderation is key. Nobody ever got fat or unhealthy because of a muffin or a slice of cake. I also believe it is always better to make your own desserts at home than to buy them from the supermarket. If you indulge in something, you'd better make sure that it's high quality and that you really enjoy it!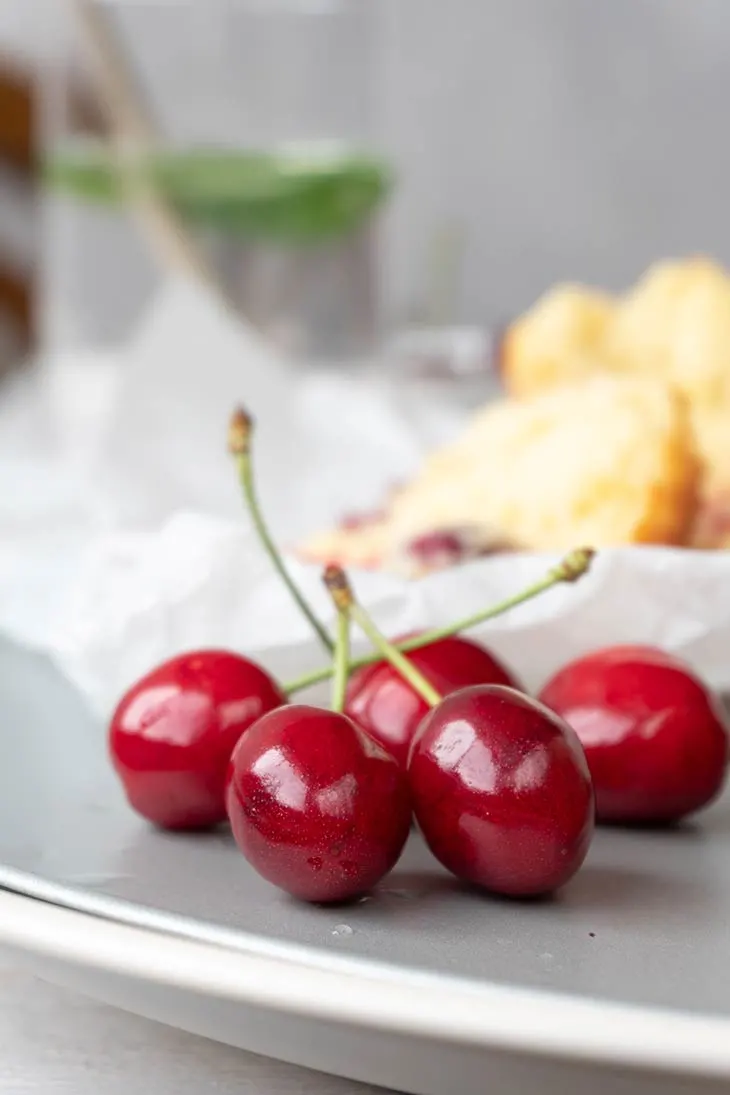 Also, by making your own desserts at home, you can control how much sugar goes in. Most store-bought sweets contain way more sugar than necessary. As much as I love sweet food, sometimes sugar can be incredibly overwhelming and hide other flavors, making your dessert less interesting and more unhealthy.
By making your own desserts at home you'll also have nothing to do with harmful additives and preservatives. Not to mention that the process is way more enjoyable. You can make a decadent dessert on your own, on a mellow Saturday morning, while listening to your favorite music or podcast. If you have kids, you can take them to the kitchen and ask them to help you out. Or simply make a dessert with your significant other.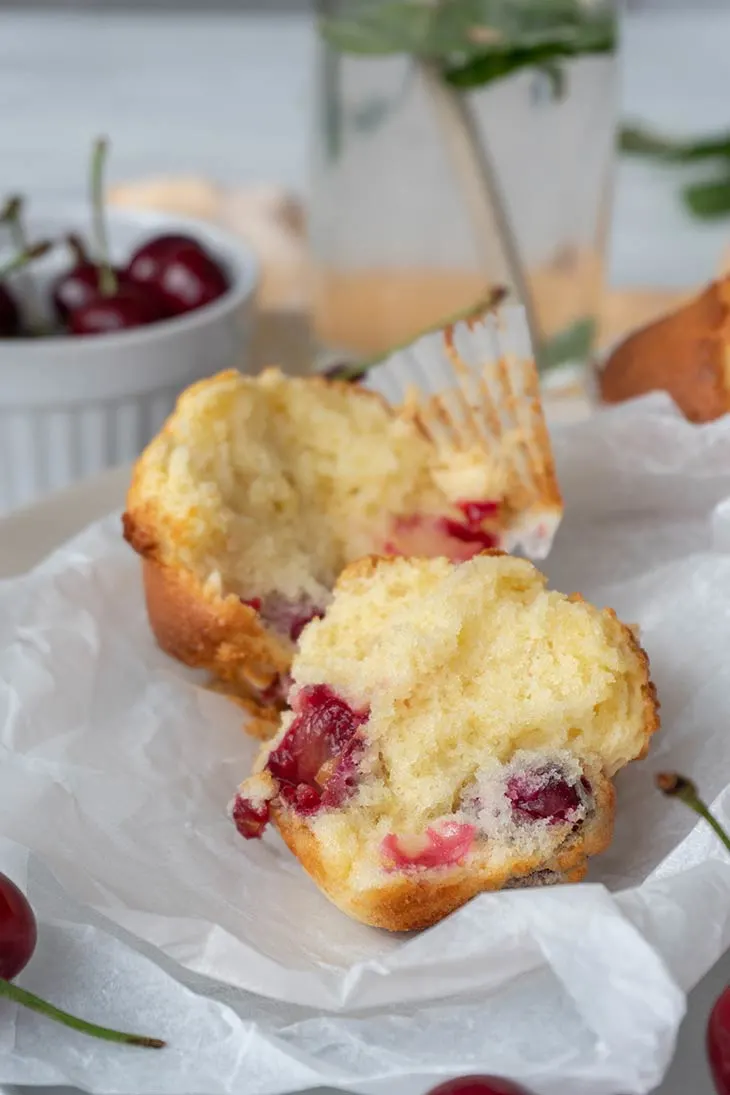 Either way, the experience is so much more complex than simply reaching for that plastic-wrapped donut in the supermarket aisle or clicking a button on that food delivery app.
These vegan cherry muffins are perfect for that type of situation. They're fun to make, and honestly, they're fairly healthy for a dessert. They *do* contain a bit of sugar, but not too much. And you get lots of benefits from the fresh cherries, such as vitamin C, potassium, copper, and manganese. Cherries also help you sleep better and help with heart health and digestion.
All of those benefits inside a muffin? Are you kidding me? Gimme more. 😉 If you want to make these muffins even healthier, you can opt for whole-grain flour instead of the regular one, though that will also make them less fluffy, so be careful with the proportions.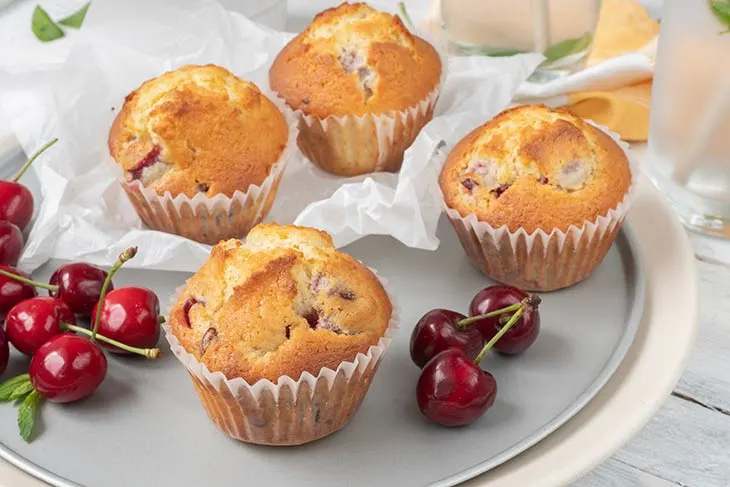 I love a lot of things about muffins. First of all, I love the fact that they're pretty convenient to make. You're basically just making a liquid batter that you can then pour inside your muffin tray (or trays, if you're baking more). It's no fuss. Everyone can make it!
I also love how versatile they can be. For instance, when trying out this recipe, you can easily bake a few blueberry muffins as well, if let's say, you have one member of your family who hates cherries. It's so easy. Muffins are great as a breakfast food or snack option thanks to how small and compact they are.
And, you know, sometimes you might have a sweet tooth, but want to eat just one or two bites of something sweet, not a whole piece of cake. Something like… a muffin! 🙂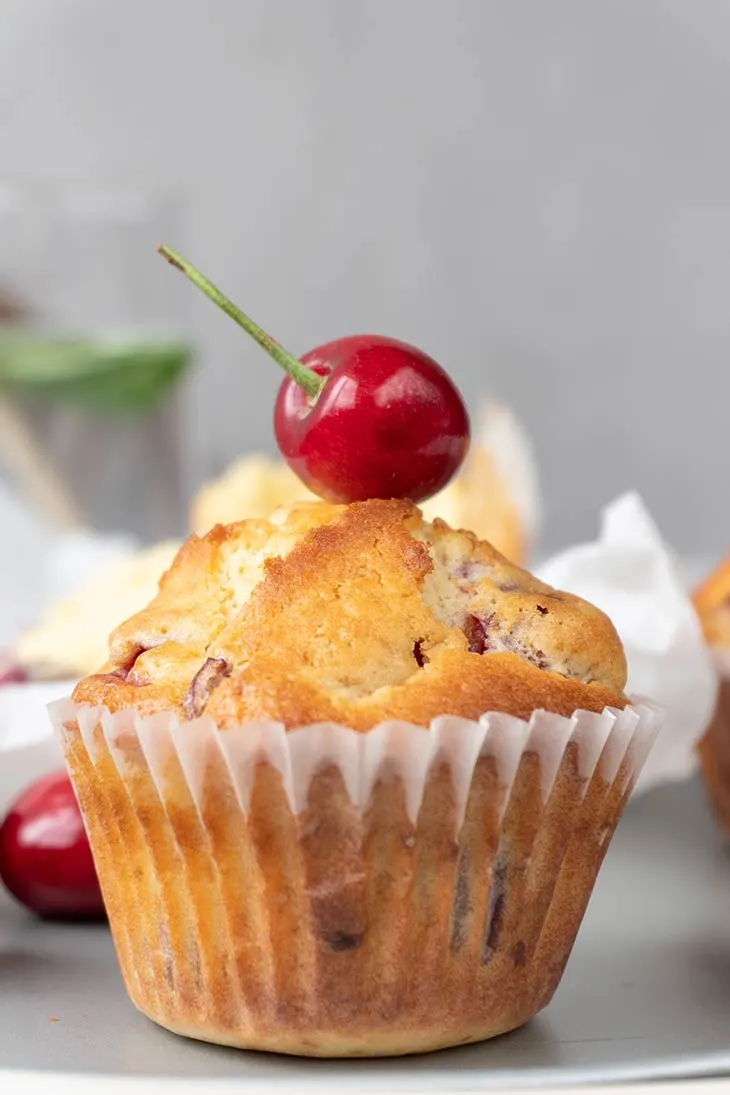 But what I love most about this specific muffin recipe is the fact that it's completely plant-based. You'll find no animal products – not here. And this is great for vegans and omnivores alike because nobody's going to notice that this doesn't contain eggs or cow's milk.
If you know me, you'll also know that I'm all about meal prepping and convenience. Whenever I'm baking muffins, I know that they'll be gone in no time. That's why I double or triple the ingredients in the recipe and make more batter.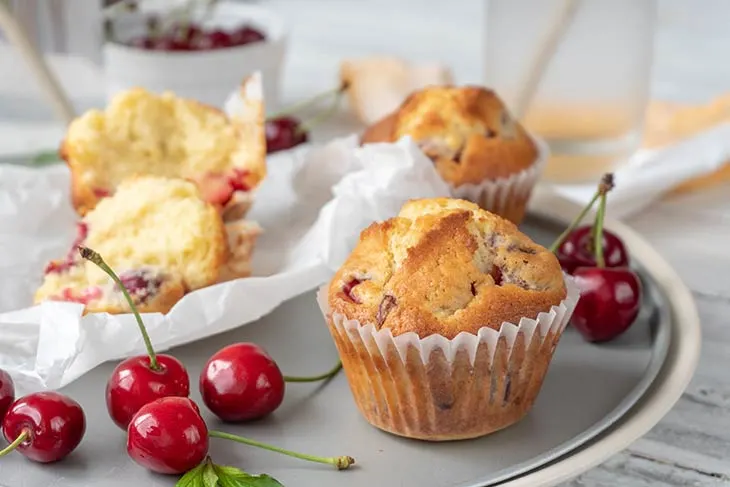 I'm baking more batches, I'm letting the muffins cool down, then I pack them and pop them right in the freezer to enjoy later. I love always having something premade in the freezer. There are some mornings when I just can't make myself do anything for breakfast, not even boil an egg, let alone bake fresh muffins.
So then I take one or two of these guys out, pop 'em in the microwave, then enjoy them with my favorite vegan yogurt, fresh fruits, and coffee. It's perfect, it's healthy, and, most important of all, it's super fast!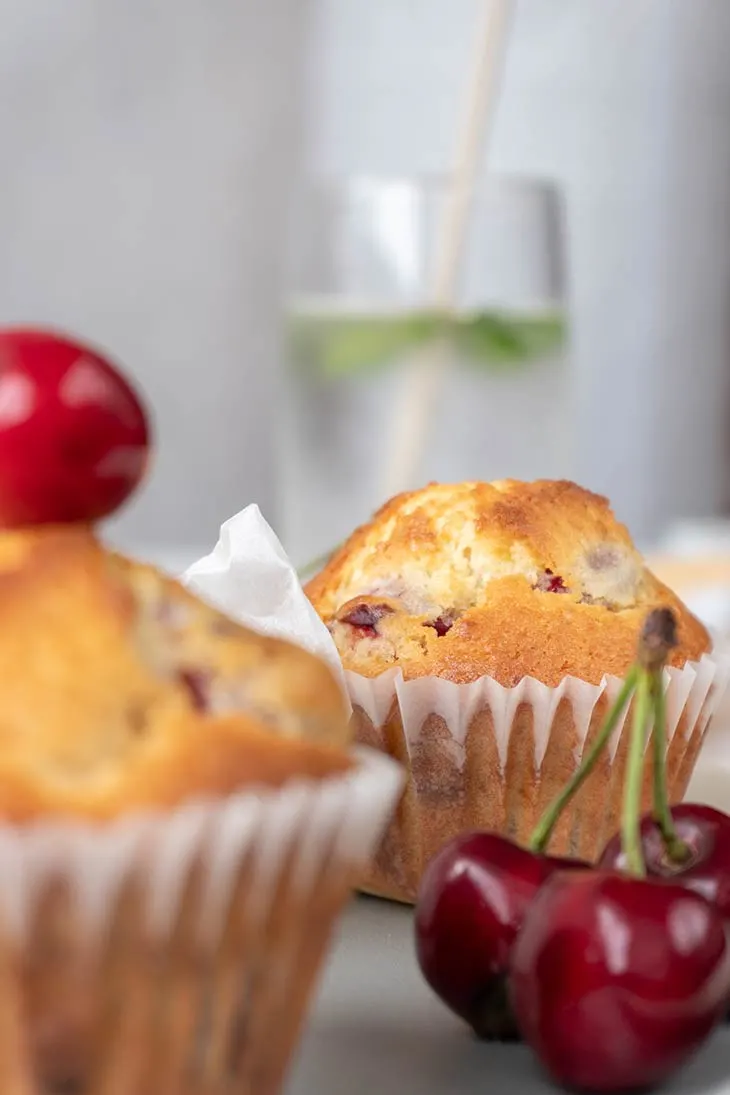 I hope I've stirred your interest with these vegan cherry muffins. If I did, and if you're going to bake them, I'd love to hear if you liked them and how they turned out!
Yield: 6
Vegan Cherry Muffins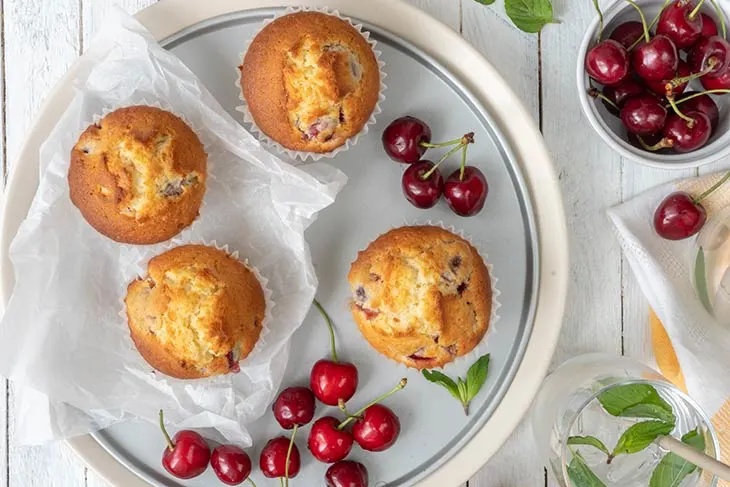 Easy, simple, moist, sweet, refreshing - these vegan cherry muffins will literally tick all the boxes! Not to mention they're very healthy too, so you won't feel bad for indulging in this amazing dessert!
Ingredients
200g (1 cup) cherries, pitted
200g (1 1/2 cup) all-purpose flour
110ml (½ cup) olive oil
240ml (1 cup) vanilla soy milk
100g (1/2 cup) coconut sugar, or any other sweetener you like
1 tsp baking powder
1/2 tsp baking soda
1 lemon, zested
1 tsp pure vanilla extract
Instructions
In a bowl, mix the flour, sugar, baking powder, baking soda and lemon zest.
Add the oil, vanilla, and soy milk, then mix until smooth.
Add the cherries and combine them.
Pour the mixture into the tin, in each muffin liner.
Bake for 25 minutes at 180C/356F.
Test with a toothpick. Insert it in the middle of a muffin and if it comes out clean, they're ready. Otherwise, let them bake for a couple more minutes.
Let them cool in the tin for 10 minutes, then remove and transfer the muffins on a rack to cool.
Nutrition Information
Yield
6
Amount Per Serving
Calories

437
Total Fat

20g
Saturated Fat

4g
Trans Fat

0g
Unsaturated Fat

16g
Cholesterol

0mg
Sodium

99mg
Carbohydrates

61g
Fiber

3g
Sugar

33g
Protein

7g
I strive to keep the information as accurate as possible but make no warranties regarding its accuracy. I encourage you to make your own calculations using your preferred nutrition calculator.