This vegan chocolate cherry cake has a rich chocolate flavor that goes perfectly with the subtle sour taste given by the sour cherries. It's similar to the popular "Black Forest" cake recipe.
This is the final recipe for 2016. I chose a festive one to celebrate the end of this wonderful year. 🙂 So many things happened this year and I am thankful for all of them, as they have made me who I am today. 🙂
2016 was a decisive year for my blog. It is the year I started to invest more energy into it and even made my dream come true…I launched the Meal Planner App! 🙂 I'm planning so many other surprises for you in the year to come. eBooks, app upgrades, more recipes and posts… all in all… my blog will become my no. 1 priority. 🙂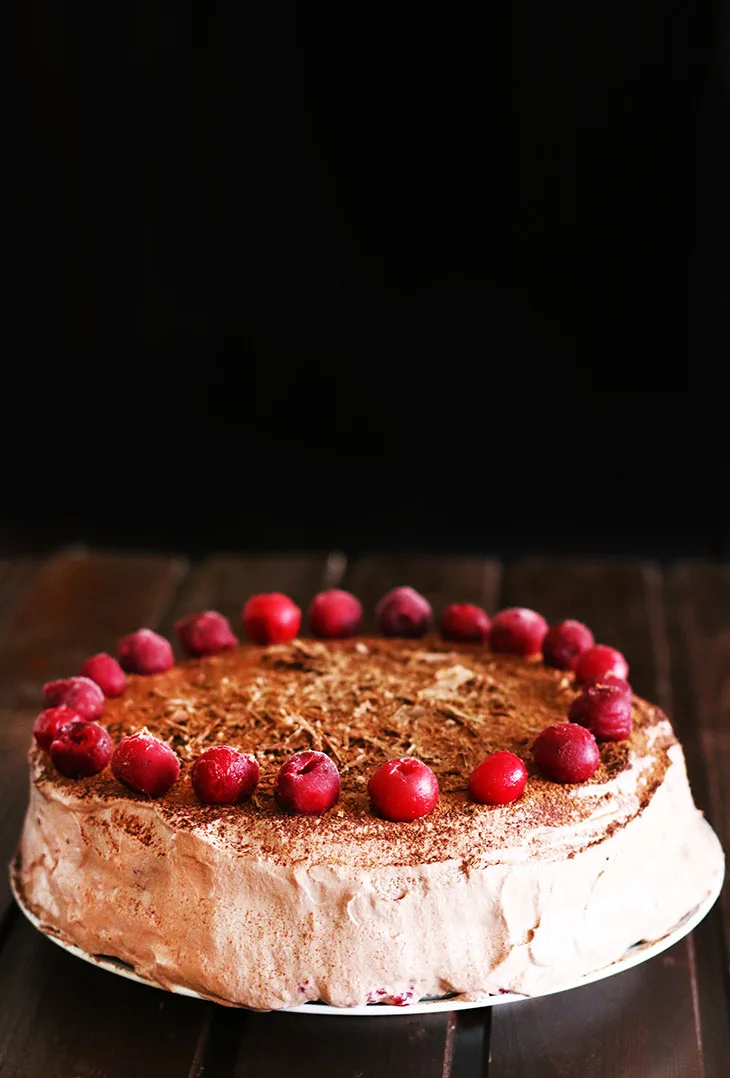 To celebrate this year's end I decided to put my baking skills to a test and try a more complicated cake recipe. As you probably noticed, I am not exactly a baking enthusiast. Desserts are definitely not my forte, but I do my best. 🙂
This vegan chocolate cherry cake is made for celebrations. It can become a great birthday cake, Christmas cake, or for any other types of festivities. I was inspired by the famous "Black forest" cake recipe. It is very similar to that recipe, so if you crave the Forêt Noir taste, this is the cake for you.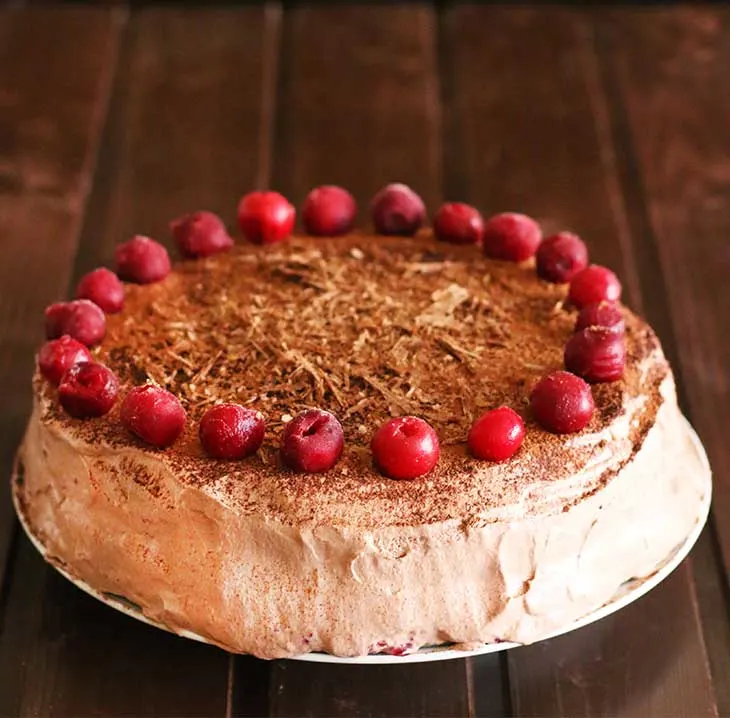 I always try to simplify even the most complicated recipes. This is what I did with this "Black Forest"-inspired cake recipe.
If you're like me, not a big fan of baking but still want to do your best and impress your dear ones with a homemade dessert, this is the recipe you're looking for! Read it thoroughly, make sure you have the right ingredients (read the notes as well) and start baking! You'll see, it is not as difficult as it may seem. It's actually quite easy to make. 🙂
This is not a cake you can make in a couple of hours, as it needs to stay in the fridge overnight before decorating. However, it is totally worth it! The prep & cooking parts are quite easy, even if you have to be careful not to miss a step. 🙂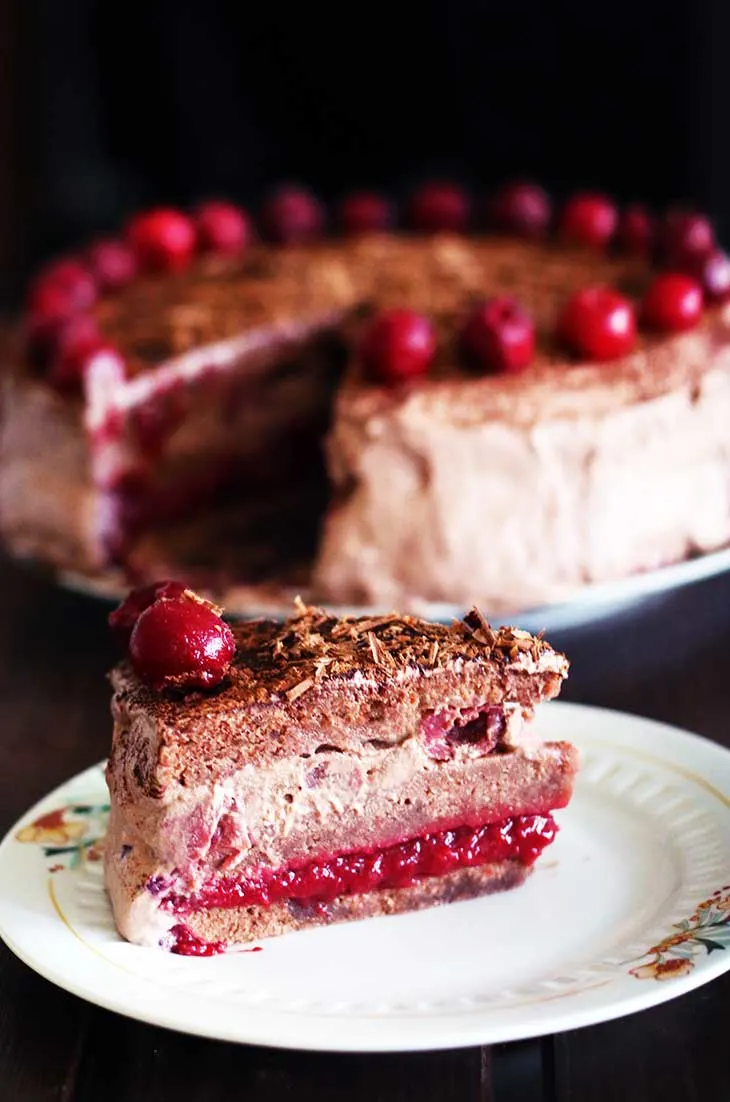 This vegan chocolate cherry cake serves about 12 people. It's gluten-free, dairy-free, egg-free and it can also be made refined sugar-free if you replace sugar with stevia powder. Try a good brand, though. I usually use Green Sugar, which is combined with xylitol, so it has a more sugar-like taste.
I wanted a more chocolatey taste, so instead of keeping the cream white, as in the Black Forest cake recipe, I added some cocoa in. I have a very good brand of cocoa and I love the rich chocolate taste it gives to desserts.
Farina from Schar was the GF flour mix I used, but you can use Mix It Universal or Mix Patisserie as well. This is a great brand for GF stuff.
Enjoy! I hope you'll give this recipe a try!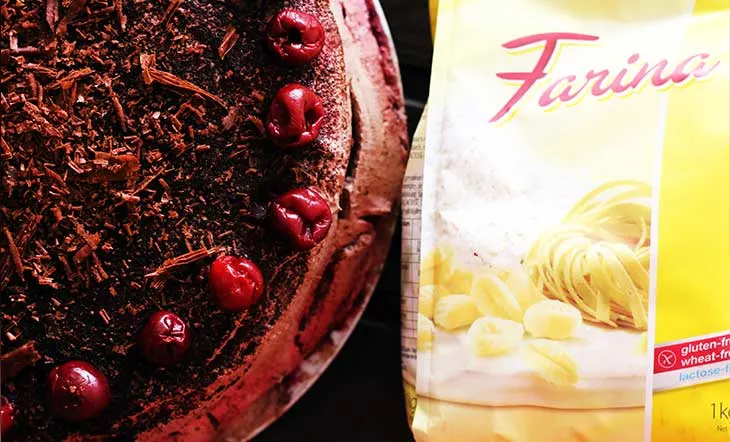 Yield: 12
Vegan Chocolate Cherry Cake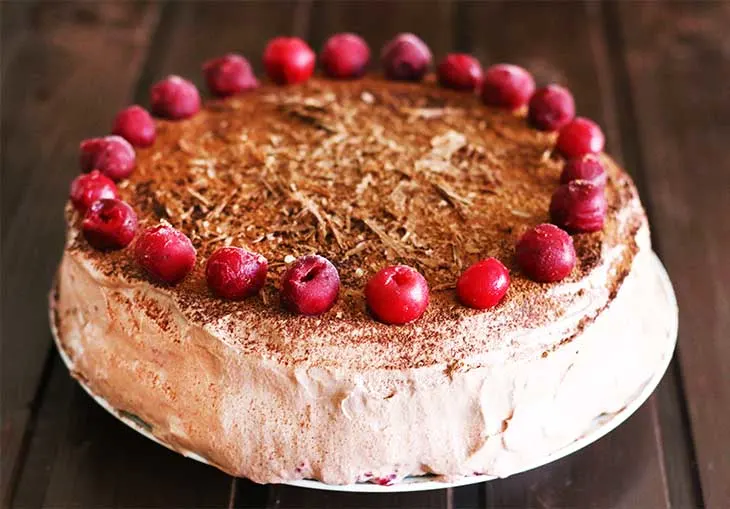 This vegan chocolate cherry cake has a rich chocolate flavor that goes perfectly with the subtle sour taste given by the sour cherries. It's similar to the popular "Black Forest" cake recipe.
Total Time
1 hour
10 minutes
Ingredients
Crust:
300g (2 cups) flour (I used gluten-free flour, Mix It Universal by Schar)
200g (1 cup) brown sugar
1 tsp baking soda
1 Tbsp apple cider vinegar
4 Tbsps cocoa, high-quality
130ml (½ cup) oil
250ml (1 cup) soy milk (or any other vegan milk)
Sour Cherry Jello:
500g (3 cups) sour cherries, pitted (I used frozen)
50g (1/4 cup) sugar
5 Tbsps tapioca flour
Chocolate Cream:
500ml (2 cups) coconut milk - IMPORTANT! Not the liquid type. Use the full fat, solid type of coconut milk. It has the consistency of high-fat sour cream. It must be kept in the fridge for at least 1 hour before using.
4 Tbsps cocoa powder - If you want it to be less chocolatey and more like the Black Forest Cake cream, skip this
100g (½ cup) sugar
2 tsps vanilla paste or extract
1 Tbsp rum
Syrup:
1 jar of sour cherries, pitted, in syrup
Toppings:
sour cherries, cocoa and ground dark chocolate
Instructions
Crust:
Preheat oven to 350F (175C). Grease a 9-inch/ 23cm pan with detachable walls.
Mix flour with brown sugar, cocoa, and baking soda.
In a separate bowl, mix soy milk with oil.
Pour wet ingredients over the dry ones, slowly, while mixing using a hand-mixer.
When incorporated, add vinegar. Mix some more.
Pour the composition into the pan and bake for ~25 minutes.
Let it cool. Once cool, slice the cake horizontally into three equal layers.
Sour Cherry Jello:
Add all ingredients into the food processor or blender and blend until smooth.
Add the composition in a large pan, over medium heat. Stir continuously. After 5 minutes it will start to thicken. Stir continuously for ~10 more minutes, until it has a jam-like consistency.
Once ready. Turn off the heat and let it cool.
Chocolate Cream:
Add all ingredients in a food processor. Use the egg whites whipping attachment, not the blades. You can also use the "egg whites whipping function" if it has something like that. Alternatively, add them to a bowl and use a hand mixer. Process for 15 minutes.
Assembly:
Slice the cake crust into three equal layers.
Assemble the cake in the cake tin with the detachable walls.
Use the top cake crust slice on the bottom. Place this at the bottom of the cake tin.
Pour over 5-6 Tbsps of syrup from the cherry jar. Spread it evenly.
Pour the sour cherry jello and spread it.
Add the second cake crust, the middle one.
Pour 5-6 Tbsps of syrup evenly on top of it.
Add 1/2 of the chocolate cream and top with the cherries from the jar.
Top everything with the final cake crust layer.
Pour the syrup on this too.
Place the cake in the fridge until the next day.
Decoration:
Take the cake out of the cake tin. The creams should be quite stiff by now.
Use the remaining chocolate cream to frost the cake. Spread it all over it, on the sides and on the top.
Dust it with cocoa powder, ground dark chocolate and decorate with some sour cherries.
Nutrition Information
Yield
12
Amount Per Serving
Calories

534
Total Fat

12.2g
Carbohydrates

103.4g
Protein

2.6g