This is the easiest vegan chocolate cake you will ever make! It's pretty much mix & bake and has a decadent, rich, chocolate texture you'll love!
There's no way I'm going back to baking cakes with eggs after this recipe! I can't believe how moist this vegan chocolate cake turned out to be! The whole recipe is so easy, pretty much just mix and bake! You'll end up with an extremely rich chocolate flavor and a soft, moist, texture.
Even those of you who are not very fond of baking can try this recipe. You'll see it has just a few steps, a bunch of simple ingredients, and the result… oh well… just look at these photos!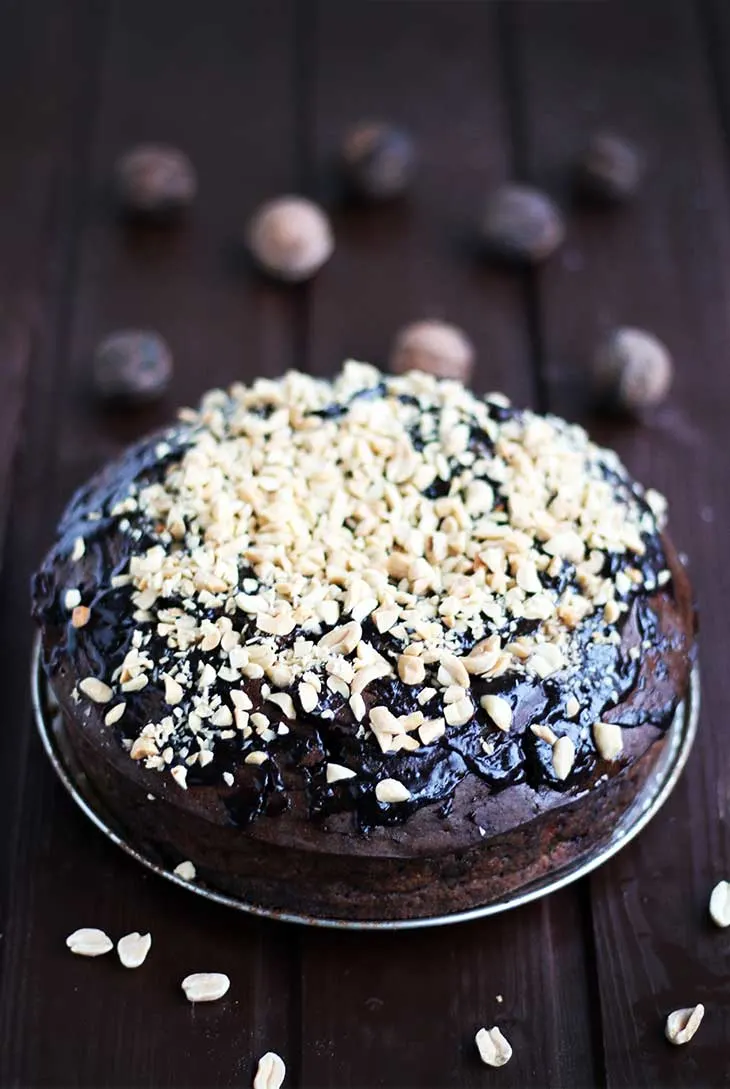 If you want the perfect chocolate taste and texture, I would highly recommend you to use good quality cocoa. It does make a huge difference! You'll also notice that I used 1 extra ripe avocado in this. It is optional, but recommended, because it makes this cake's texture even better. You won't feel its taste at all, but all that fatty goodness will make the cake simply melt in your mouth.
For some crunchy texture, I added some roughly chopped, roasted peanuts on top. You can use any other nuts you want but lightly toast them before.
If not gluten intolerant or if you don't have any gluten sensitivity, you can use regular wheat flour too. I use Schar products because I feel a lot better since giving up gluten. They're the best GF products I tried so far and all the baked goodies I made with their gluten-free flour mixes turned out really good.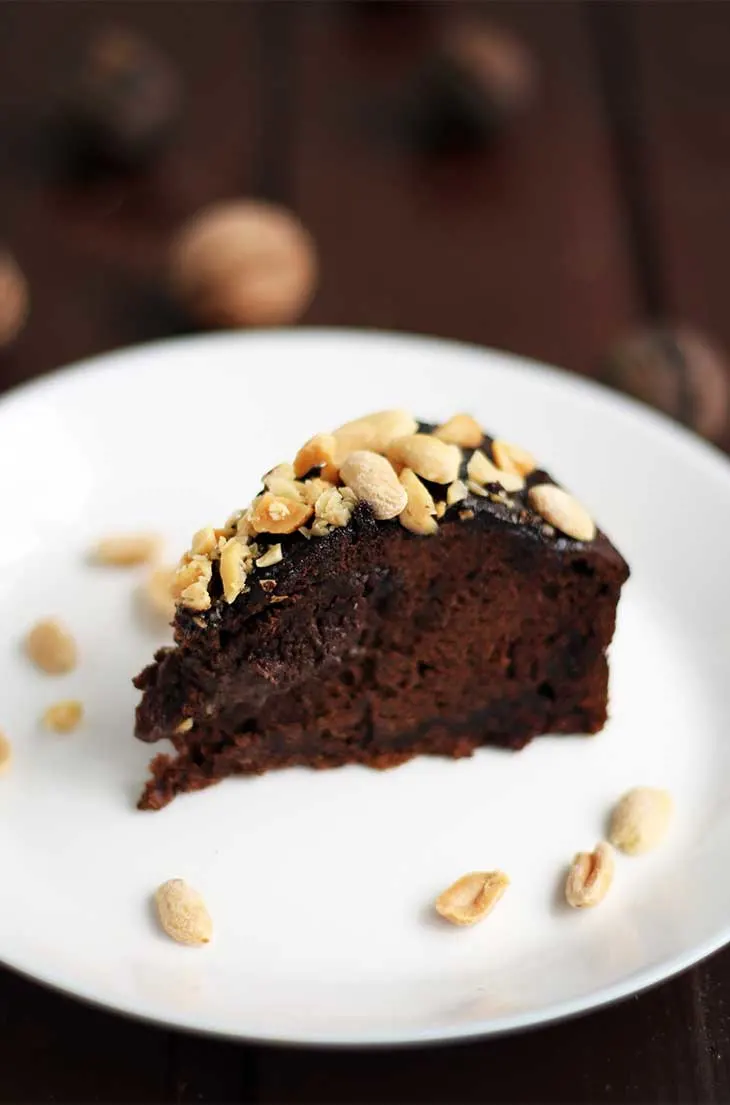 For the chocolate glaze, I didn't have enough coconut oil when I made this recipe, that's why the vegan chocolate cake in the photos doesn't have a perfect finish. In the recipe below, I added the right quantities needed to glaze the whole cake.
So, here it is! My best vegan chocolate cake recipe! Hope you'll give it a try and let me know how it turned out for you!
P.S. Need a meal plan customized for your needs? Check out the Gourmandelle Meal Planner!
Yield: 12
Vegan Chocolate Cake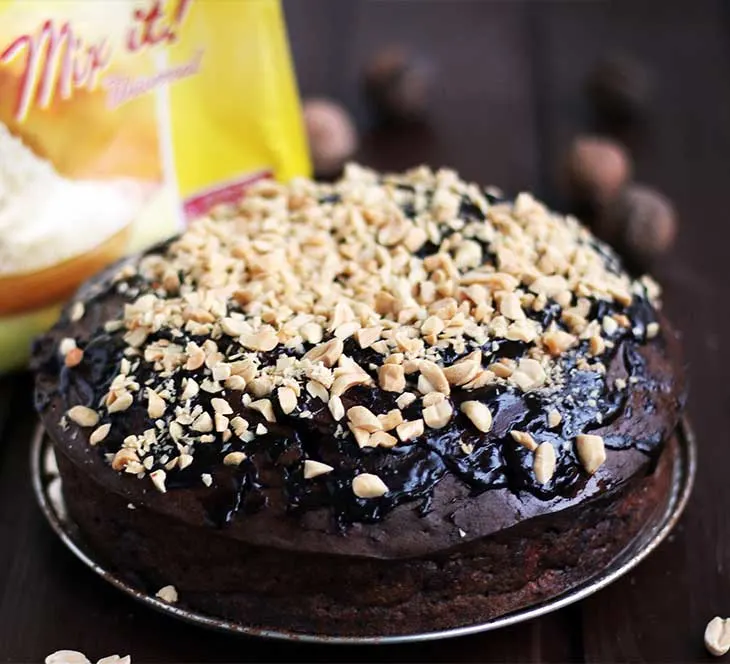 This is the easiest vegan chocolate cake you will ever make! It's pretty much mix & bake and has a decadent, rich, chocolate texture you'll love!
Ingredients
Vegan Chocolate Cake:
300g (2 cups) - I used gluten-free flour, Mix It Universal by Schar
200g (1 cup) brown sugar
1 tsp baking soda
1 Tbsp apple cider vinegar
5 Tbsps cocoa , high-quality
130ml (½ cup) oil
250ml (1 cup) soy milk (or any other vegan milk)
1 avocado, very ripe
Chocolate Glaze:
3 Tbsps coconut oil
50g (½ cup) dark chocolate, chopped
3 Tbsps soy milk
Topping:
peanuts, chopped
Instructions
Preheat oven to 350F (175C). Grease a 9-inch/ 23cm pan with detachable walls.
Mix flour with brown sugar, cocoa, and baking soda.
In a separate bowl, mix soy milk with oil.
Pour wet ingredients over the dry ones, slowly, while mixing using a hand-mixer.
When incorporated, add vinegar. Mix some more.
Blend avocado in a blender (or mash it very well with a fork). Pour it over the batter and mix well.
Pour the composition into the pan and bake for ~30 minutes.
Chocolate Glaze:
Mix all ingredients together and melt them at bain-marie. This means you'll fill a small pot with water and bring it to a boil. Add a glass or metal bowl on top of it. Add the ingredients in the top bowl and mix slowly until melted.
Check the cake after 30 minutes with a toothpick. If the toothpick comes out clean, it's ready. Get it out of the oven and the pan. Pour the chocolate glaze and top with chopped peanuts.
Nutrition Information
Yield
12
Amount Per Serving
Calories

318
Total Fat

18.7g
Carbohydrates

33g
Protein

4.2g