Cookie lover? You're in the right place! Here's how to make the ultimate almond cookies with chocolate chips, all vegan, and super healthy!
Cookies are among the best things on earth, and I think we can all agree on this one. They're amazing for those moments when you might have a sweet tooth, but don't want to bake a whole cake just for you. So you bake a tray of cookies from which you can eat one, two, or twenty depending on the mood. You can store the rest of them in a jar for a bunch of weeks, usually, and everybody's happy! 🙂
Out of all the cookie types out there, the ones with chocolate chips are probably the most appreciated. And for good reason – they can deal with that sweet tooth in no time. But how about adding some almonds in the mixture? Now things start to get really interesting, aren't they?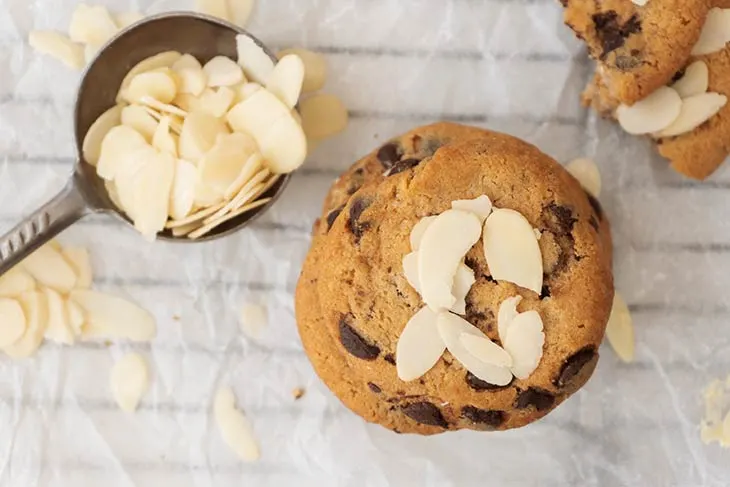 I love almonds. They're one of my favorite types of nuts out there. They're a nutritionally-dense food, providing a rich source of the B vitamins riboflavin and niacin, vitamin E, calcium, copper, iron, magnesium, manganese, phosphorus, and zinc.
They're also a moderate source of thiamine, vitamin B6, folate, choline, and potassium. If you're looking to add more fiber into your diet, they can help you with that as well.
Almonds are a good source of protein, too, so if you're vegan you might want to add more into your diet. They can lower bad cholesterol levels, and they might improve heart health. Moreover, they're absolutely delicious. You can find them in a variety of forms, such as almond milk, almond flour (almonds that have been ground until they reached the texture of flour), bleached almonds, and so on.
Almonds are used in a variety of ways in different cuisines. For example, in Greece, there's a soft drink known by the name of 'soumada' that's made with almonds. In Saudi Arabia, ground almonds are used by adding them with cold milk to a hot coffee cup to make Almond Coffee Gahwat Al-loz. In Iran, they prefer their almonds green – they dip them in sea salt and serve them as snacks on street markets. These are called chawale badam.
And, of course, Italians use bitter almonds as the base for their famous amaretti (almond macaroons).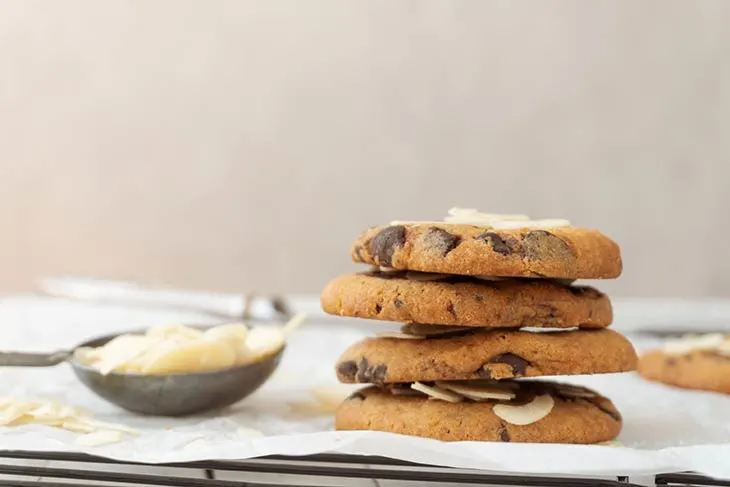 I hope I got you hooked on almonds because today I'm going to share with you an amazing almond cookies recipe, one that also includes chocolate chips! 🙂 And I can't be happier with it, because it's just the perfect snack.
You can get these done very very quickly, so they're perfect for those moments when you feel like you're going to die if you don't have something sweet, but you don't really feel like buying cookies.
In my opinion, baking your own cookies is always better than buying them. This way you know each and every ingredient that went inside, and you can also control the amount of sugar. Because, let's face it, as much as we love sweet things, store-bought cookies can go a little overboard with the sweetness factor. As much as sometimes a cookie may be labeled as almond flavored, but really all you can feel is sugar. Where's the fun in that? 🙁
These cookies have just the right texture – crispy on the exterior, chewy on the interior. You can use almond flour when making these for an extra almond flavor and nutritional benefits. Almond flour is an amazing substitute for regular flour, especially if you have to keep your carb portion under control. Because it contains no wheat, it's also gluten-free.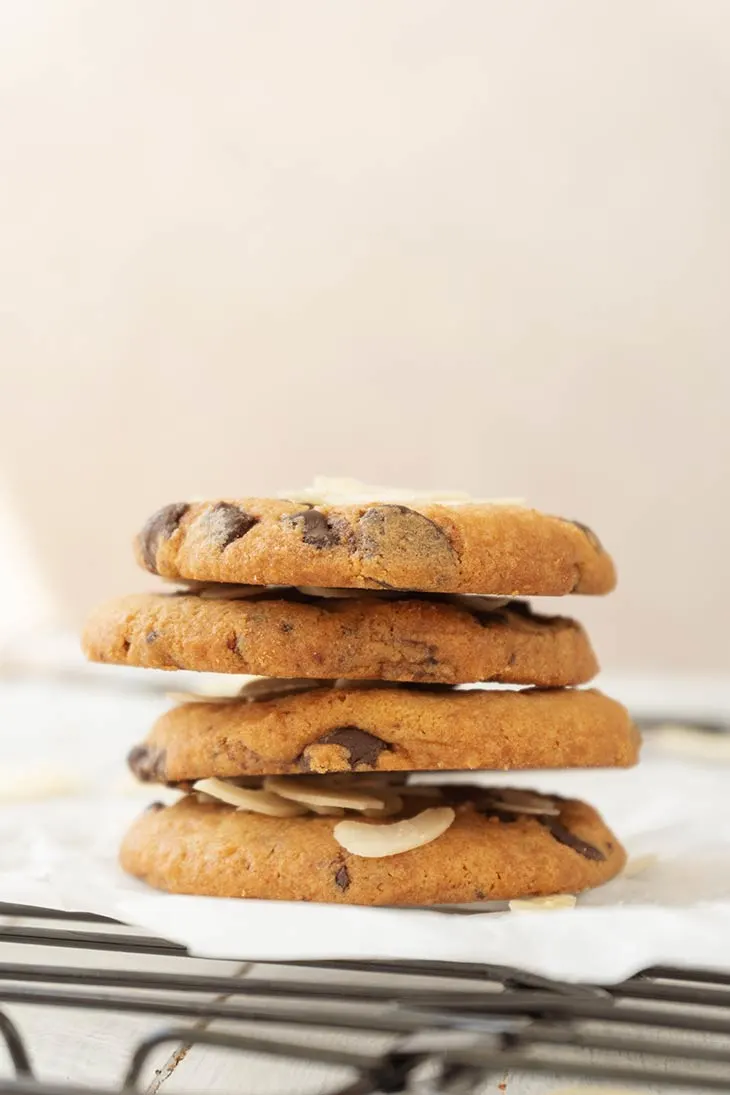 So if you happen to be gluten-intolerant or have a friend who is, these cookies might be the perfect solution. If you prefer your cookies crunchier, you can also chop up some of those almonds and throw them inside the batter. This way, your cookies are going to be perfect. Those crunchy almond bits are going to contrast very nicely with the softness of the chocolate chips, which are going to melt inside the oven and give you the most amazing taste ever! 🙂
These cookies are a great snack option for kids as well, and more on the healthy side, so you won't have to feel bad for giving your kid sweets to school. They also hold up really well in the fridge, but if you want to have them around for even longer, you can bake a bunch of trays on the weekend and freeze them for later.
Tip: I think they'd work well even frozen, like ice cream sandwiches. However, you'd have to try for yourself, as I haven't tested this yet!
I love serving these in the morning, with a cup of coffee. They're also great crumbled on top of porridges, parfaits, or plain yogurt, for a nice crunchy factor.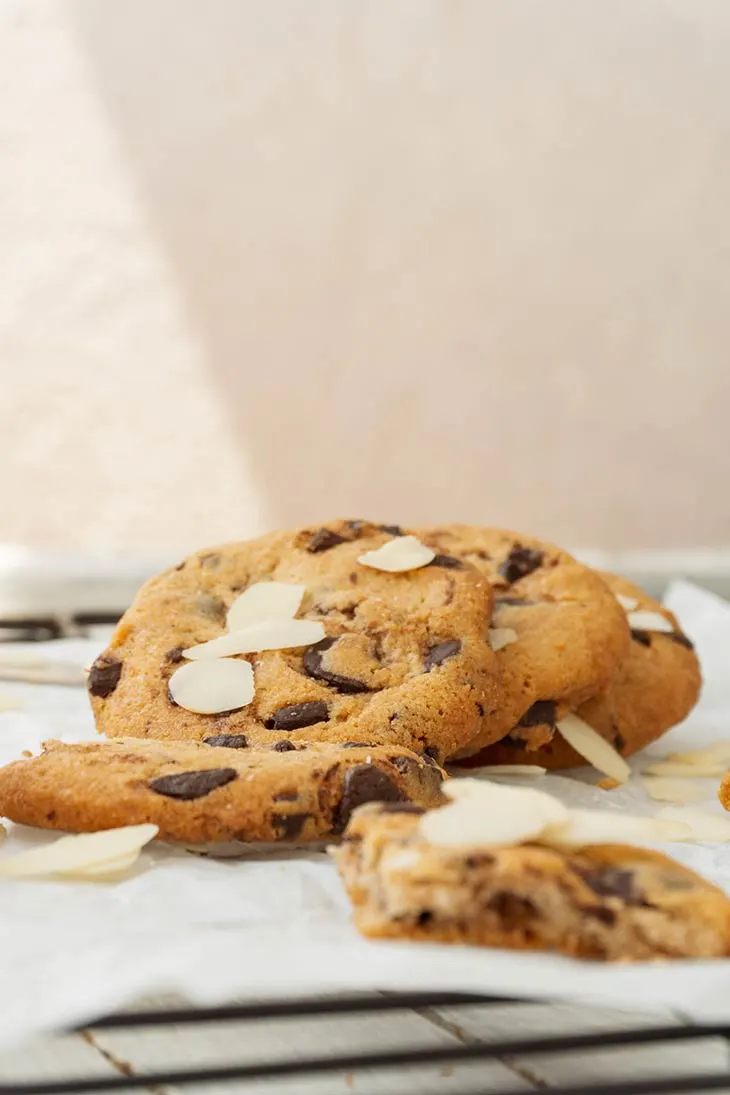 I hope you're going to try these out next time you have some spare time. And I hope you'll manage to not eat them all at once – I might have failed at that! 😉
---
Personalized meal plans and workout videos | Get your customized meal plan today! [x_button shape="square" size="mini" float="none" target="blank" href="https://shop.gourmandelle.com/?utm_source=mainsite&utm_medium=site&utm_campaign=inpost" info="none" info_place="top" info_trigger="hover"]I WANT A MEAL PLAN![/x_button]
---
Yield: 6
Almond Cookies with Chocolate Chips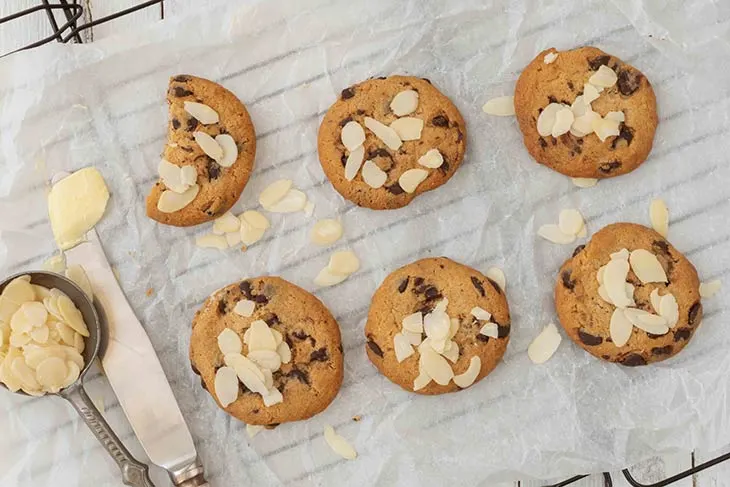 Cookie lover? You're in the right place! Here's how to make the ultimate almond cookies with chocolate chips, all vegan, and super healthy!
Ingredients
100g (7 Tbsp) vegan butter
150g (¾ cup) brown sugar
1 Tbsp flaxseed meal + 3 Tbsp water
1 tsp vanilla extract
200g (2 cups) almond flour
30g (⅓ cup) roasted almonds, crushed
1 Tbsp corn starch
½ tsp baking soda
½ tsp salt
100g (⅔ cup) vegan chocolate chips
Instructions
Pour 3 Tbsp of water over 1 Tbsp of flaxseed meal, set aside.
In a large mixing bowl, cream together the butter and sugar.
Add the flaxseed "egg" and vanilla extract and mix to combine.
Add the remaining ingredients, except for the chocolate chips.
When combined, fold in the chocolate chips.
Cool in the fridge for 20 minutes.
Form the dough into balls and bake on a lined baking sheet at 180 degrees C for 15-18 minutes.
Nutrition Information
Yield
6
Amount Per Serving
Calories

573
Total Fat

42g
Saturated Fat

14g
Trans Fat

1g
Unsaturated Fat

26g
Cholesterol

36mg
Sodium

453mg
Carbohydrates

46g
Fiber

7g
Sugar

35g
Protein

11g
I strive to keep the information as accurate as possible but make no warranties regarding its accuracy. I encourage you to make your own calculations using your preferred nutrition calculator.